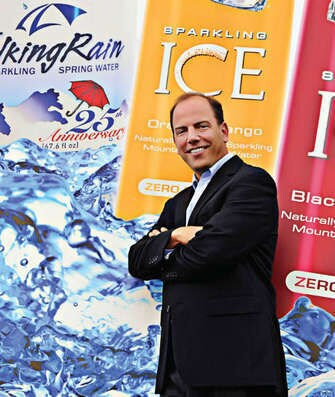 Based out of the Greater Seattle area, Talking Rain has really taken flight when talking about the beverage industry and its main conglomerates. Talking Rain is known to source its driven beverages from local springs, also propelling its mission to give back to the community. Talking Rain is known to support many different non-profit organizations, with philanthropy being one of its core business values. The product that comes to mind when talking about this wonderful company is its sparkling water line, called SPARKLING ICE. The drink prides itself as being a water-based fruit flavored beverage that sports having zero caloric value. The health craze has been surging, and Talking Rain has been dominating with its zero-calorie sparkling water that has gained an emotional connection from its consumers. For instance, fans of the brand are creating a ton of buzz surrounding the SPARKLING ICE Flavor Faceoff Campaign, an online social media contest through which SPARKLING ICE is giving back to its fans. SPARKLING ICE as a product has been challenging those at the top of the carbonated beverage vertical, and there is no sight of slowing down. Kevin Klock, the President and CEO of Talking Rain has been in this position since 2010, but started at the company in 2006 as the VP of Operations. Kevin has shown his dedication to the company through his many years of hard work and vigor which has eventually led him to where he is today. He admits "I thought the title was going to be temporary after the company did a lot of management reformation", but Kevin has proven how much of an effective leader he can be, and has driven Talking Rain to heights never before imaginable. He thanks much of his success to the people he has had the chance to work with and the team that has supported him through the way.

4 Questions with Kevin...

1. How do you identify trends? What resource does your team use to spot trends and consumer insights?

One thing that we try to do here is buy a lot of data. We look at the data in each market and segment, and really try and look at the numbers. This is not the only route we use but we do try and look at what the numbers are saying. That being said, the numbers don't always reflect what is happening in the real world. We don't like to use a traditional panel-driven type of work, but rather our super-users group. We try to hear what exactly our consumers are saying and try to leverage their feedback. We also try to understand it from a standpoint where everyone in the supply chain is winning. Whether it's the retail or distribution side, we look to get everyone benefiting from the decisions we implement. The real question is if it all adds up? Or are we only hearing benefit from one end of the chain. Again, we don't use traditional panel work but rather are open to what our consumers and business partners are saying.

2. What is the biggest challenge you face when innovating?

For most people, it is looking at the place that you reside, for us it's the Greater Seattle Area, and not getting caught up in looking at only the area that surrounds you. You must also look at the country as a whole. What might be popular in the North-West, might not be so popular in say... the South. All communities are different. We look to see what would work in a large-mass scale rather than what works in just one region. On another note, internally, when you have a request form one side of the supply chain, but another segment doesn't like the idea, then you have a conflict of interest.

3. How do you find inspiration or ideas from adjacent industries? Or do you focus only on your category?

We absolutely look at adjacent industries. Some of the conferences we go to push the minds of our employees and allows them to explore outward with forward thinking. We take the team wherever we can, and look for programs or people that are entrepreneurial and are trying to start their own business. Beverage conferences are also useful for us because it puts us in a new environment. We also look at food trends because flavor innovation is huge right now. Creating success in the food industry translates to us being successful in the Beverage industry. Lastly, from a team standpoint, we are a very collaborative environment, and we listen to what an employee has to say, no matter what the title. Everyone has their own ideas.

4. Looking to the future, how is Talking Rain going to be a leader in innovation?

I think we were really fortunate because we don't have a huge legacy to uphold. We are not obligated to hold onto anything. Most of our employees are new hires, which allows us to move and adapt very rapidly. This will allow us to see new innovations. We have many relationships with retailers and distributors. We're not afraid to take a risk. If I sign off on an idea, I'm just as responsible for the success or failure of it as everyone else. We don't want to create a culture where people are reluctant to speak up. We must take risks to thrive.
References: linkedin and talkingrain