Sustainable Innovation Tactics
Stan Frankenthaler, VP of Global Product Innovation, Dunkin' Brands
Related Trend Reports
Art & Design
,
Business
,
Customization
,
Design
,
Drinking
,
Food
,
Health
,
Home
,
Lifestyle
,
Marketing
,
Media
,
Social Good
,
Tech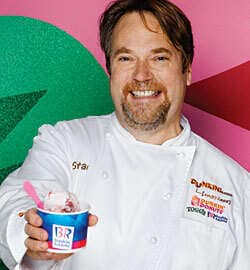 In a recent interview with Stan Frankenthanler, VP of Global Product Innovation and Executive Chef at Dunkin' Brands, we discussed the importance of motivation, culture and trends in relation to kick-starting innovation. Responsible for innovation and culinary development, Frankenthaler explains how the importance of stimuli and collaboration can help sustain innovation.
4 Questions with Stan Frankenthaler
1. How do you motivate your team to come up with good ideas?
Well, I think the group in general is a highly motivated and creative bunch. When it comes to motivation, I think constantly feeding them stimuli is great. Stimuli will generate the spark of a great idea, and that stimulus always changes. Whether it's getting out and shopping in ethnic markets, walking various neighborhoods and checking out the cool independent coffee shops, working with our ingredient suppliers, or going to a local mom and pop bakery or scoop shop, I always want something stimulating my team because that's what keeps them thinking, that's what keeps the great ideas flowing.
2. Trends can have a great influence over the general public. How significant is the topic of trend spotting to Dunkin' Brands?
It's something we keep an eye on all the time -- very, very important. The stimulation I mentioned earlier is a visceral sensory experience that product developers in the culinary world react very strongly to. On the trend spotting side, we have a fantastic consumer insights team that we collaborate with frequently. When we can tie the bigger social trends to the culinary trends then we've really got something. We have access to great expertise that shed light on trends we may not be aware of. With Dunkin' Donuts and Baskin-Robbins, it's about creating products based on trends that our consumers don't anticipate yet and are happily surprised to receive.
3. Can you describe the innovation process at Dunkin' Brands?
It's an interesting process, and just like any process the beginning is very organic. The tricky part is moving it to a more linear path, from idea to commercialized product. The beginning stage looks messy and may not always be very defined. That scares some, albeit I think it's important that "it's" not all figured out in the early stages. If you want the idea to take shape and move along, you have to have room for change. As a concept moves down the Innovation to Market path it takes clear form...gets lots of validation from customers and other stakeholders...and eventually might end up in stores delighting our guests.
4. It has been said that "culture eats strategy for breakfast." How do you create a culture of innovation?
I think that's an excellent question, and I think it's a huge challenge. It takes a lot of like-minded people pursuing new ideas on a daily basis across all aspects of the company. It can't just be one group or one part of the company thinking, and acting on innovation. In the last 5 years, we have really developed a culture of innovation across the board – in marketing, technology, operations and culinary. I think you can really sustain this culture when all parts of the enterprise are working together to enhance the business with innovation and really drive the business forward.