Setting a Social Standard for Innovation (INTERVIEW)
Tim McLaughlin, Steam Whistle Brand Manager
Related Trend Reports
Art & Design
,
Bizarre
,
Branding
,
Business
,
Design
,
DIY
,
Drinking
,
Fashion
,
Food
,
Furniture
,
Lifestyle
,
Luxury
,
Marketing
,
Media
,
New Ventures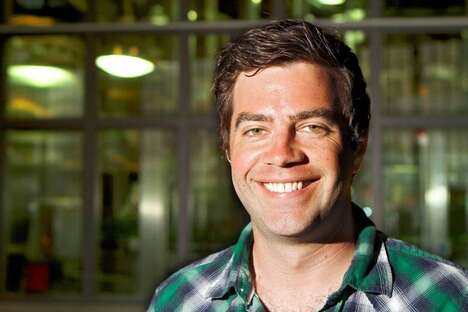 As the Brand Manager for Steam Whistle Brewery, Tim McLaughlin works to develop plans and programs that will continue the company's growth across Canada. A community-based brand, Steam Whistle really gets involved within the social aspect of the community, marketing itself on the radio rather than television and creating an intimate connection between the brand and its consumers. The brewery makes a single type of beer, the Steam Whistle Pilsner, and it's a true testament to the brand's slogan which is "Do one thing, really, really well."
Three Questions with Tim McLaughlin:
1. How does your team generate new ideas?
We pride ourselves on being new and innovative and always trying to develop new and exciting ideas to present our product in different and creative ways. Because we only have one beer, we pay a lot of attention to details, using innovative packaging, promotions and specialty gift packs to keep our brand fresh and exciting. We do everything in house, generating ideas internally without the use of agencies. We draw a diverse group of people together from all different elements of our company including the retail stores and distribution, not necessarily only marketing-focussed areas. That way, we can come up with ideas you wouldn't necessarily imagine otherwise. Employees are empowered to share ideas and everyone gets heard because you never know where great ideas are going to come from.
We're a very focused business with one quality product and great customer service. The marketing team researches what's going on in the industry, often by visiting bars and stores where our product, and our competitors are sold and we are aware of trend in the beer industry such as new flavor variants and new packaging ideas. While we keep up to date on the current trends and innovations in the industry, we are not necessarily going to jump on these new ideas.
2. Do you have specific rituals for re-setting your team to be creative?
One of the more enjoyable parts of working at Steam Whistle is the social element. At the end of every day we blow the steam whistle and everyone knows that work is over and they can reward themselves with a refreshing beer. We find that many of the best ideas come out over a nice cold beer and every year we have an annual strategic planning session where we get a group together at an offsite location such as the founder's cottage and the Toronto Island and we discuss the challenges we face as a company as well as opportunities looking forward.
3. How does your team find inspiration to stay innovative?
When it comes to ideas like packaging and signage, we get inspiration from vintage soda pop companies. Looking back in time to the 1950s and 60s inspires us to recreate that cool retro feeling. For example, there was a vintage 7-Up cooler that we loved and recreated that will be making its way out next summer to our patios. There was also a great Coke sign that we rebranded with a Steam Whistle logo and currently put up in bars. This kind of inspiration leads to cool and unique innovation at our company that our consumers love.
We are a very fun brand. People want to interact with us more and social media is a huge part of our focus. We have a strong online following and we are very interactive, always facilitating conversations and engaging with consumers. We also have an online survey platform that encourages people to give as feedback on things such as what they're drinking and where they're drinking, as well as what they like and dislike about Steam Whistle. Beer is such a social product and we are all about getting out there and being active in the community with experiential executions that are our main area of focus from a sponsorship perspective. We sponsor around 500 events throughout the year, many of which have a sustainable and environmental standpoint. We don't put all our resources in one basket and engage people in a more intimate way through small events such as art gallery openings where we can give them a memorable experience. This helps to get our name out there and turn people into long-term customers. Looking back at the past, there used to be breweries in every community, they were a huge part of the social fabric. In the recent century, all that has gone away and we are trying to recreate that by being involved and contributing to the community from a social standpoint.