Executing on a Timeline
Stacie Sopinka, VP Innovation, US Foods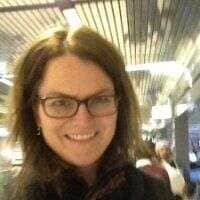 Stacie has worked in product development with Loblaw for 14 years. After traveling internationally with product development teams, she found herself with US Foods. US Foods is the 10th largest private company in America, and offers more than 350,000 national brand products and its own "exclusive brand" items, ranging from fresh meats and produce to prepared and frozen foods. The company employs approximately 25,000 people in more than 60 locations nationwide, and provides food and related products to more than 250,000 customers, including independent and multi-unit restaurants, healthcare and hospitality entities, government and educational institutions. Stacie is the VP of Innovation and Product Development at US Foods.
Three questions with Stacie:

How does your team generate new ideas?
We have a multi-pronged approach. We travel abroad and expose ourselves. We have a lot of ideas come up through our customer base. US Foods is a large company, so we are servicing a large percentage of the US through food distribution. We do trade shows and see a lot of ideas come from those. We rely on party suppliers. We like to participate in pragmatic innovation-- it's a customer need as well.
How do you identify trends? What resources does your team use to spot trends and consumer insights?
We have more than one consumer insight company that we partner with and we receive quarterly updates from them. There's a lot of individual ad-hoc stuff as well. I personally read a lot of food magazines because I'm trying to connect. In terms of where our core customer is -- its generally in a family casual dining sector. We're not looking for leading edge all the time, and we're here to catch the wave at the perfect moment.
What is the biggest challenge you face when innovating?

I think that the core challenge is execution. We develop on a firm timeline; it doesn't leave a lot of time for things to go wrong. In a matrix organization, we have to work very hard to communicate the status of projects. Things go on that go very unexpected, so there's always a timeline between trying to take a risk and ensure quality products are delivered.