Innovating for Overlapping Needs
Maya Zuniga, Director of Product Innovation, S&D Coffee & Tea
Related Trend Reports
Branding
,
Business
,
Credit Crunch
,
Design
,
Drinking
,
Food
,
Health
,
Home
,
Kitchen
,
Lifestyle
,
Marketing
,
Media
,
Retail
,
Social Good
,
Tech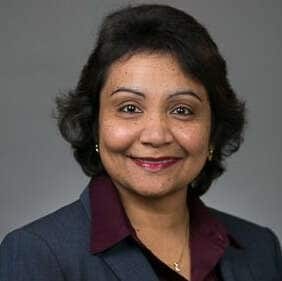 As Director of Product Innovation at S&D Coffee & Tea, Maya Zuniga is responsible for building the innovation pipeline and formalizing the product development program at the Concord, N.C.-based company. S&D is a national supplier of coffee, iced tea and extracts, and, since being founded in 1927, has grown to become the largest coffee roaster and blender of foodservice iced tea in the United States.
With a Bachelors degree in chemistry, and a Master's and Ph.D in food science, Zuniga cut her teeth across a variety of cross-functional roles including sourcing, category management and open innovation at companies like Pillsbury and General Mills over a 17-year period.
Zuniga says listening to consumers to ensure their needs are not only met, but anticipated, is key to developing new products, like their latest innovation --
MilkSplash
. According to her, research shows that seven in 10 children will consume more milk -- and thus its nutritional content of potassium, calcium and vitamin D -- when it is flavoured. Such innovations align with the trend of water flavour enhancers, and reinvigorates a category like milk where consumption has been on the decline in recent decades among a large consumer base.
1. Do you have specific rituals for re-setting your team to be creative?
Considering we are a relatively new team and actively in the building phase, there are no set rituals at this point. That being said, part of our coming together as a new team was a source of creativity as we got to know each other and draw from each other's perspectives and varied experiences.
2. How do you identify trends? What resources does your team use to spot trends and consumer insights?

Because we have a large sales force, one of our best avenues for identifying trends is tracking similarity of requests that come in from our numerous customers. If I see the same type of request coming from different sources, that's a good indicator. Of course, we also track industry trend reports from the typical channels as well.
3. What makes an innovative culture? How do you create a culture of innovation and why is this important at a company like S&D?

I think fostering an environment where all ideas are welcome from different sources, levels, internal and external, make for a great funnel of ideas to explore. Remaining open to all ideas, no matter how crazy they may initially sound. Even the craziest ideas have 'nuggets' that can be extracted – it's taking the time to parse the idea and find the real value that leads to innovation. S&D is incredibly successful in its core products of coffee and tea. As you may have seen, both these categories have been undergoing a metamorphosis of sorts (e.g. increased iced coffee beverages, cold brew, tea 'bar' concepts etc.) and S&D plans to keep up with that evolution.
4. What is the biggest challenge you face when innovating?
The biggest challenge we face is balancing sufficient vetting or feasibility of an idea vs. spreading ourselves too thin trying to chase everything.
5. Has there ever been an instance where another industry that has influenced an innovation at your company?
Definitely, some of the best disruptive innovations came from cross-industry learning. It has more to do with understanding how consumers needs are changing across the board. I think it was tapping into other industry trends that we developed our latest innovative product: MilkSplash
6. Looking to the future, how is S&D Coffee and Tea going to be a leader in innovation?
S&D is growing at a rapid rate and we are evolving into a beverage company vs. coffee and tea only. Our goal is to be able to deliver a broad range of solutions that cover the gamut of beverage needs.