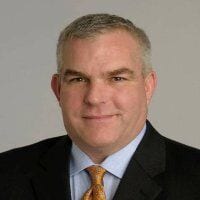 Robert Chumley is the Sr. VP of Innovation for 7-Eleven, Inc. at its Dallas headquarters. He has spent the majority of his career in CPG and started at 7-Eleven in 2009. Rob was responsible for establishing in 2011 and now leading the company's innovation department.

The department was created to reinvent the 7-Eleven's approach to convenience retail innovation. 7-Eleven is known for a number of firsts…such as the first retailer to operate 24/7, coffee in a cup to go and the first ATM outside a bank branch.

A number of 7-Eleven's competitors have shifted their process and are catching up to the international retailer. This motivates the company to think proactively about the future of convenience. There are now over 56,600 7-Eleven's around the world, and the company shows no signs of slowing down.

"The challenge is that people are busy keeping the current business going so there is not a lot of time for breakthrough thinking," Rob said. "I wanted to create a team to follow through with these innovations and plug them back into the company. The goal is to transform 7-Eleven from convenience stores to convenient stores that are defined by the problem they solve. The main difference is, from an external perspective, how do you break away from ubiquitous products and, largely, how do you think differently about the customer on the go? How do I extend the reach of the store beyond its four walls?"

Rob then goes on to explain the verticals involved in this. The first is a small group redefining in-store experience. This ranges from in-store environment, product assortment and also platforms that are staff-served models (types of food and the customization, digital engagement).

Another is the Omnichannel team with two core mandates. One is digital connections that include the 7-Eleven app with over 5 million downloads. Rob's innovation team is also responsible for the evolution of the app, its loyalty system and a customer-response platform.

The digital commerce group, a part of the Omnichannel team, is responsible for driving new customers and transactions to 7-Eleven stores. This helps to manage the 8 million people in and out of 7-Elevens in the US and Canada each day.

7-Eleven has a dedicated distribution network that services every store, every day, all year. This means that stores can get what they need when they need it. The company also provides financial services to those who don't have access to a credit card or bank account or who prefer conducting cash transactions. 7-Eleven woks with PayNearMe, a Silicon Valley company that enables consumers to pay cash with a broad variety of financial institutions and billers, making it extremely convenient for these customers to pay bills through 7-Eleven stores.

Lastly, 7-Eleven is launched an arm called 7-Ventures through which the company makes strategic investments into networks 7-Eleven believes will complement its core business of convenience, like tech and product startups.

4 questions with Rob...

1. What makes an innovative culture? How do you create a culture of innovation?

Let me tell you a story. When we set up the team with my HR business partner, they asked who I wanted to have on the team. This was the wrong answer. We do a lot of assessments on our employees and we don't do much with the information. I thought this would be a chance to use the information, and choose how I want the team to think, how to behave, and then take this list and push it back through the organization to see who pops out. Some key characteristics were intellectual curiosity and a mild disdain for the status quo. The point here was that I didn't care where they were from or their background. We hired 15. The culture gets created by the people and the value they have. We are supported in that I report directly to the President and CEO… so there are no barriers in the company. I think it is important that we have our own dedicated space that is different from the typical cubicle farm… our teams are very fluid. Everybody is invested in what we need to get done. Another thing is that we talk about a charter or mandate, but don't talk about the specific business deliverables. Other organizations might have a specific mandate, but we don't do that nor commitments. Our charter is renewed annually if we like where things are going.

2. Do you have specific rituals for re-setting your team to be creative? How does your team generate new ideas?

I think what we've done is encourage people to consume a lot of content from a lot of different places. People are stumbling across stuff all the time. The main approach is that we are not the innovators… we are the stewards of innovation. We don't have the answers… we must find them. The 7-Ventures arm is interesting because it opened up the conversation about outbound opportunities and letting people know we are open for new business. We now have a healthy balance between inbound and outbound opportunities; that is, those we create and those that come from the outside.

3. What is the biggest challenge you face when innovating?

Trying to scale up and commercialize these ideas into the day-to-day business can be a challenge for obvious reasons. We are never at a level where the ideas, and where these ideas are on people's radars are the same. We still have to dedicate this to the consumer and store level. I find that franchisees and customers are often more accepting of innovation than our internal merchants are.

4. Looking to the future, how is 7-Eleven going to be a leader in innovation?

I think it is about being closest to the consumer. Not only physically, but being technologically connected to them. I had a meeting last week, and it was said that we have so many stores that are so close together. The man proceeded to hold up his mobile device and said "this is closer." So it is about leveraging the stores and the overlaying technology to be as close as possible to the consumer. How do you meet the demand wherever or whatever it is, and make it frictionless?