Enabling Consumer Innovation
Rick Blaiklock, VP of Veritas Tools at Lee Valley Tools
Related Trend Reports
Architecture
,
Art & Design
,
Business
,
Design
,
DIY
,
Fashion
,
Gadgets
,
Hip Fashion
,
Lifestyle
,
Marketing
,
Retail
,
Romance
,
Tech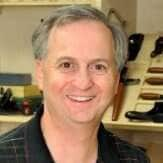 When Lee Valley Tools began 37 years ago, it was a simple mail-order business selling just one item (barrel stove kits) out of Leonard Lee's home. As the company gained traction and grew, there was one clear mission: providing access to unique, quality items that weren't readily available. At a time where power tools were ubiquitous and manufacturing was overwhelmingly being pushed overseas, Lee Valley did something different -- it focused on manufacturing high-quality hand tools in Canada to fill the gap not met by readily available products.
When the country's only mail delivery service, Canada Post, went on strike you could imagine that it wouldn't bode well for a strictly mail-order business. However, Lee Valley didn't retreat from the market, it actually expanded into retail operations by establishing storefronts (currently 16 across Canada) to allow customers to shop in-person. It's this relentless and adaptable approach to business that has taken Lee Valley Tools from humble beginnings to become a renowned market leader.
The creation of Veritas Tools, Lee Valley's in-house manufacturing arm, led the company to a new design capability that is now led by Rick Blaiklock, VP of Veritas Tools. Rick and his team create high-quality tools produced in Canada that apply Lee Valley's unique take on innovation to solving consumer problems. That's a big part of the company's focus on innovation.
6 Questions with Rick...
1. What makes an innovative culture? How do you create a culture of innovation at Lee Valley Tools?
The first thing we do is have a really strong focus on our customers; we want to hear from them and we want to solve actually solve a problem for their needs. The other part is that we don't innovate to a set calendar schedule. We definitely don't rush any products to be out by a certain time, instead we make sure it's the best it can be before we release it. We've had products take five to seven years to go through the design and production cycle because we just weren't satisfied that we solved the problem we set out to solve in the best possible way. That level of commitment to the process and focus on actual customer needs is what fosters true innovation at Lee Valley.
For example, a few years ago we released a new line of chisels. You can imagine that innovating a chisel is pretty difficult; you can play with the shape and the type of handle, but a chisel is a chisel and they've been used for as long as there has been woodworking. We initiated a major R&D project to research different types of metals and found one that far outperforms existing materials. As part of the evaluation we looked at what actually mattered to our customers in this context and our evaluation considered the balance between that the ability to sharpen the metal yourself vs. the longevity of the blade while in use. We evaluated over 25 different metals to find the most high-functioning one that met the consumer needs. It may not have been a fast or inexpensive process, but we ended up with a great product that gave customers what they wanted.
2. Do you have any specific rituals for re-setting your team to be creative? How does your team generate new ideas?
I think we do a lot of little things in this area. First, we sort of employ the Google model (20% of employees time is dedicated to ad hoc projects they're passionate about) where our design and engineering staff has some freedom to pursue areas they have a personal interest in; people tend to work harder for the projects they have actual passion for. We also have gone out to visit local woodworkers with really high levels of expertise to learn all we can from them. One of the things we do to encourage more interaction directly with customers is send our designers to different places (e.g., trade shows) to have in-person dialogues with them. Our CEO, Robin Lee, has always said that our most valuable design tool is our ears.
3. What is the biggest challenge you face when innovating?
Internally our biggest challenge is resources. In a workplace culture like ours, you get more ideas than you can realistically bring to market. Making sure your resources are dedicated to the right projects can be really difficult. The other area that's tough from a design perspective is staying totally current on materials; we just can't know every option that's out there. One time we had a sales team pitch a product to us that we weren't really interested in, but they happened to speak about a certain type of plastic as they were leaving. We actually ended up using that plastic technology in our saws and we developed a great product line. So it's hard for us to know everything on our own.
4. How do you find ideas from adjacent industries? Or do you focus mostly on your category?
We definitely look at areas outside of woodworking. The field of metal work, for example, can provide insights into ideas for tools used by woodworkers. But you have to be careful and apply some intelligence because wood is a unique material. Wood is natural and will expand/contract in different temperatures and humidity levels, for example. So the type of extreme precision that happens in metal working tools may not translate into woodworking; a piece of wood you cut at an exact measurement won't necessarily stay like that throughout the seasons. The tools woodworkers use need to reflect the reality of working with a material made by Mother Nature.
5. How do you use consumer trends/insights in your work? What resources does your team use to spot trends and consumer insights?
We use a lot of resources to access consumer insights. We go to trade shows, monitor activity on various relevant forums (Robin Lee is very active on forums himself) to develop ideas directly from the consumer, utilize our relationships with outstanding woodworkers, and monitor relevant publications like woodworking magazines to stay in tune with emerging trends more generally. We actually have an archive of those magazines and one of our employees recently went through them all to identify and track trends over time to see all the ebbs and flows. We also have an internal group of employees called Veritas Champions, all of whom are woodworkers. They help keep us apprised of trends in what types of projects consumers are making and what they are seeking in their tools.
6. Looking to the future, how is Lee Valley Tools going to be a leader in innovation?
We're just looking to keep doing it! Innovation doesn't happen by accident; you can't sit and wait for lightning to strike. It's a process, and one in which we're continuing to invest in going forward. Woodworking is a craft that's been practiced for thousands of years, which means that we can always learn from the past, but also that there is always opportunity for improvement; the problem is never fully solved.