Passionately Creating Innovative Products
Susan Lintonsmith, CMO, Chef Nick Groff, Executive Chef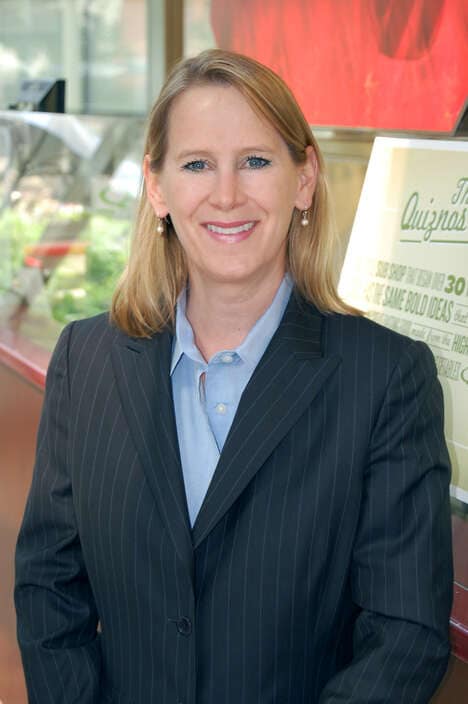 Coming up with innovative, and delicious, chef inspired recipes that delight customers is what Quiznos has done since its creation in 1981. Susan Lintonsmith, Chief Marketing Officer, and Chef Nick Graff have dedicated themselves to bringing Quiznos' fans the best ingredients and selection available. Their passion for their job is palpable, and it's demonstrated in everything they do. Innovation is in their brand's DNA, and the company continually pushes to create interesting menu items that are sure to have its customers coming back for more. With new concepts such as Toasty Pasta and Toasty TV, Quiznos will continue to grow and lead its sector through its diverse range of food and attention to detail.
4 Questions with Susan Lintonsmith and Chef Nick Graff
1. How does your team generate new ideas?
Susan: We generate ideas in a number of ways. We are always watching food and flavor trends, whether it be reading about them in a magazine or watching TV. We all love food and eating out, so we keep our ears to the ground at all times. Another important way to come up with new ideas is by listening to our customer. We are very consumer focused, and we spend a lot of time talking to them and focusing on their needs. Social media has become a great tool for us to not only connect with our guests, but also to listen to them. As an example, our guests love our lobster promotion and frequently ask when our lobster sandwich is coming back. We will not only bring it back because we know they love it, but also spend time coming up with new lobster recipes. Our suppliers have some very talented executive chefs, and Chef Nick will work with them to see what ideas fit with our brand. Also, our brand positioning is about innovation and great flavor. Consumers give us credit for being innovative and expect it from us. We are able to push the envelope to come up with really great ideas. We recently launched our Toasty Pasta line where we have created some great pasta dishes that incorporate the fresh ingredients we already have. We're also able to build off our toasted equity since this pasta goes through our toaster. Since we are given the freedom to innovate, it helps the team create exciting dishes.
2. How do you identify trends? What resources does your team use to spot trends and consumer insights?
Nick: I have a number of resources that I use, and it begins with reading the industry publications. There is a lot of great material available, and it's just a matter of going out and reading. We are also well networked with our vendors. We have ideation meetings with them where they present 8-10 different sandwiches for us to try. Sometimes these sandwiches are just what we are looking for, and other times they act as a great place to jumpstart other ideas. I also eat at a lot of different independent restaurants. They can move on a dime and are quick to act when they see a trend. Food trucks are also having a huge impact on what is happening in restaurants. They come up with fusions and product ideas that are completely unique, and they're exciting to watch.
3. What makes an innovative culture? How do you create a culture of innovation?
Susan: Fortunately, Quiznos as a brand is rooted in innovation. We were innovative when we came out with the original toasted sub in 1981, and recently, with the toasted pasta. We have created a culture of innovation by making sure we encourage new ideas and thinking. We enable our team to take risks and try new things. Some ideas are more successful than others, but our team knows we're about innovation and we always want to empower them. As an example, I was a little skeptical when I first read some of the Toasty TV ideas and video scripts, but I quickly realized I wasn't the age demographic my team was going after so I told them to proceed! I believe in our creative team and wanted them to have the freedom to create content they believe will connect best with our consumer targets.
4. Looking to the future, how will Quiznos continue to be a leader in innovation?
Susan: We want to continue to develop the innovative ideas that we have, and we want to push our boundaries. We want to make sure that we're staying ahead of what everyone else is doing. Our customers expect exciting and innovative things from us, and we will continue to make our delicious chef inspired recipes. We want to utilize our resources, test great ideas including new products, and get the best items out to our customers quickly.