Engaging through Experiential Innovation
Abel Matutes Prats, CEO of Palladium Hotel Group
Related Trend Reports
Babies
,
Bizarre
,
Boomers
,
Health
,
Hip Hotels
,
Mobile
,
Pop Culture
,
Social Media
,
Tech
,
Travel
,
Unique
,
World
,
Youth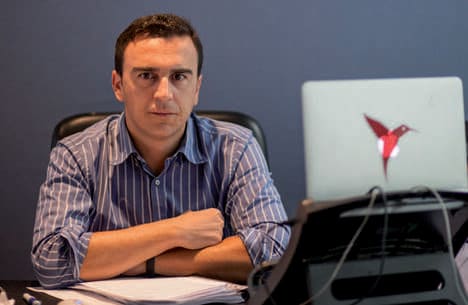 A man with creative drive and passion, Abel Matutes Prats, the CEO of Palladium Hotel Group, has a strategic plan to follow, yet knows the value of being able to alter or postpone his plans when unforeseen opportunities and challenges arise. His end goal after all, is to see even greater success for the company through the continual improvement of guest experience. Taking a unique and adventurous approach to innovation, Abel has exciting things in store for the future of Palladium Hotel Group as he continues to surprise and delight his discerning clientele.
Three questions with Abel Matutes Prats:

1. How does Palladium Hotel Group stay ahead of the trends?
Everything comes from the culture of the company. When I first came on at Palladium Hotel Group, I tried to differentiate myself from others. We try to do something different so that we can catch on quickly to the trends that people want before they ask for it. I've always been supportive of people who bring up new ideas and I always promote multidisciplinary meetings between different parts of the company to encourage people to think outside of their area of expertise. We promote a mentality where everyone can try to create something and suggest different ideas, even if their position in the company doesn't dictate it. We don't have any trend hunters, but we're always encouraging our team to look for different things, check out new hotels, visit new locations and seek new ideas and technologies.
We're working on our culture all the time, making sure people don't feel judged for what they say and, even though there will be ideas that are impossible to make happen, we have to encourage people every day to keep thinking creatively.
2. What are some future innovations in store for Palladium Hotel Group?
Right now we're underway on a really unique and cool concept that will be coming out in a couple of months. We've signed a contract with a 2 star Michelin chef, for the first Hard Rock hotel in Europe that we'll be opening. He has a concept called 'Dream Lab' he's been working on that engages all the senses, completely changing the diner's perception of food. This is a high investment project that will be the first of its kind in the world. There is going to be an incredible menu that lasts three and a half hours, where each dish is accompanied by scents and sounds that suit it specifically, creating a whole mood around each one.
3. What are some of the challenges you face when innovating?
The potential for failure is always a challenge. Innovation has a much larger margin of risk than maintaining the status quo, but it can also bring with it a lot more reward. If it was evident what would work and what would fail, everyone would be doing the same things. The risk is that a concept you've created doesn't turn out to be as big as you expected. Another challenge we face is running out of ideas. It can be dangerous to force innovation and creativity on people. Ideas come when they come so you can't enforce a goal of introducing three brand new ideas to the industry every year because that can lead to frustration and an overall sense of failure.
Culture is really important for us because there is a lot of competition and it encourages us to think differently and be special. Some companies penalize risk-takers, and it's true that some ideas are easier to make into reality while others are much more difficult, we don't have any secret weapon. Any innovation is a risk so when we start thinking about a concept that could work, we create focus groups with the demographic we're trying to reach to see if there is a future or if we can create the demand. Innovation is not only about answering the client's needs, it can also be about answering needs the client doesn't know they have yet, creating something really different and really cool that creates a demand for something that wasn't there before.