Centralizing Innovation Around Identity
Kelly Reilly, Director of Global Innovation, Ocean Spray
Related Trend Reports
Art & Design
,
Bizarre
,
Branding
,
Design
,
Drinking
,
Food
,
Health
,
Kitchen
,
Lifestyle
,
Marketing
,
Social Good
,
Unique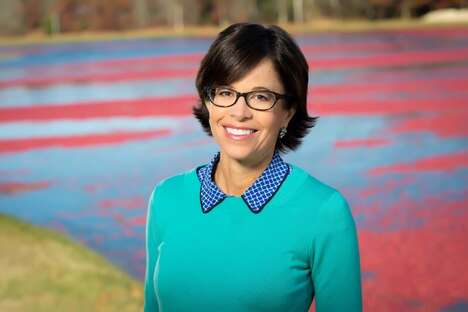 Kelly Reilly likens innovation to playing a game of snakes and ladders.
Just as soon as the path to the end may look near and clear, one unanticipated step can send you tumbling to the bottom or back to the start. But in her 18 years at Ocean Spray, an agricultural cooperative of over 700 growers, Reilly acknowledges that confronting hurdles and overcoming them is part of the challenge, with no game complete without some stumbles and laughs along the way.
In her current role as Director of Global Innovation, Reilly is responsible for ensuring Ocean Spray's product innovation pipeline remains full, and oversees a recently formed dedicated cross-functional team tasked with developing breakthrough innovations. While Ocean Spray has created a synonymy in consumers' minds with cranberries since the cooperative was first formed in 1930, its approach to innovation led to the juice aisle's first "juice blend" Cran-Apple back in the 1960s. Today, it incorporates fruits like cherries, blueberries and pomegranates in its various beverages, sauces and specialty items like salsas, gelatos and sorbets.
With the juice category now more diverse and competitive than ever before, Reilly says the cranberry cooperative needs to continue thinking outside the box and challenging the status quo in order to promote growth. Central to that proposition is communication, and how Ocean Spray intends to convey the multifarious applications of cranberries to a wider consumer base. One popular use of the cranberry in Japan, for example, is as a skin care exfoliant, and according to Reilly, understanding Ocean Spray's core brand is essential to realizing how it can enter new markets and categories.
Six Questions with Kelly
1. How does your team generate new ideas?
When we interview people who come in here, sometimes they will ask, "How do you stay creative while staying true to the cranberry?" It seems super limiting when in reality, I think what's most liberating for us is this notion that everything we do has cranberries at the centre. That is something we live by and actually feel quite inspired by. If you think of cranberry just as a flavour, we will be limited, but we've got some brilliant technical minds on our team who help us think about different applications and different processes using the cranberry that allow us to create everything from extracts to new flavours, to new forms like sweet and dried cranberries.
As well, so much of our creativity and ideas generation comes from outside our category. I notice when, as a team, we stay inside the juice category, we're somewhat limited, but it's when we look for inspiration outside of the category – places like laundry detergent, coffee, toothpaste, shampoo, and nail polish – that we find our greatest connections.
2. How much of a role does the 700-plus member growers have in the innovation process at Ocean Spray?

Certainly our owners – the people who manage this company – are truly the growers. They recognize that what they do is growing, and nobody is more innovative on their farms or grows cranberries better than our owners. But they also recognize that they're not marketers and not necessarily product innovators, so they really give us license and leeway to flex our expertise and do whatever we think is necessary in order to drive growth in the market place. That said, some of our most interesting insights and inspiration come from when we talk to our growers, and when we give them updates on innovation, we always use that time to just pick their brains in terms of what they do and what ideas they have.
3. What is the biggest challenge you face innovating?
I think it's the timing of when to capitalize on trends. We are, I think, exceptionally good at developing line and flavour extensions. You may ask, 'how do we find our next flavour,' 'how do we know what's going to hit' and 'what's going to be emerging'. We spend a great deal of time studying flavours; we saw cherry re-emerging with some smaller players and decided to jump on it. You don't want to jump on a trend too late – when you're the last person to the party and it's no longer interesting – but you also don't want to hit it too early where it's going to cost an exorbitant amount of money to seed the idea and get people comfortable with it. We've had some great successes and some great failures.
Another challenge is what I call organizational readiness. Like most CPG (consumer packaged goods) companies, we favour scale – ideas that take advantage of our core competencies and what we do best. Now that we've got a team that is tasked with driving breakthrough innovation, what becomes challenging is to introduce an idea that is wildly different than your business model; an idea that challenges how we make products and how we make money today and getting the organization aligned around a really new way of thinking is, I believe, our biggest challenge. We call it organizational readiness and something that we are always working through and trying to get better at.
4. How do you reset your team to be creative?
Like every great innovation team, we hit roadblocks. One of the greatest things we can do is to get outside of the building and out of our aisle of traditional juice or traditional dried fruit.
Some of the best ways to reset our creativity is to stop and listen to our technical folks. Often with food and beverage companies, a lot of the marketing and the ideas generation is driven by the marketer, but some of the greatest brilliance comes from these technical minds. I find that a great way to reset your team is to get the technical folks talking about what they're working on or the tasks at hand, and how they're approaching it. One other thing that we do is called mind mapping; the concept of taking an idea or a challenge and putting it in the centre and letting people over time build on the expression of that is really interesting for us and yields some new thoughts and creativity.
5. What have you seen change the most in the industry during your tenure at Ocean Spray?

If I go back 18 years ago, the environment was so different. The shelf stable juice aisle was much simpler and less cluttered; we never really saw these little fringe products creeping up. Now, I would say our competitive set isn't the big juice companies anymore; it's these specialty items that we need to have our eyes on. I would also say that 18 years ago, we were competing against other juices. Today, we're competing for share of stomach, so when a consumer goes to a convenience store or a grocery store, they're not just saying, 'What juice do I want?' They're saying, 'what do I want in order to be refreshed,' 'what I am going to buy when I'm dehydrated,' or 'what do I need to satisfy my taste' – and no longer is it just juice. We're competing with teas, waters and isotonics, so that's very different.
5. How would you compare the trends that you see now to the trends of 18 years ago?

It would be so easy for us to look at the health and wellness trend today and just add more vitamins to our juice, but that doesn't necessarily up the enjoyment factor. I do think there is a tension and this opportunity between delivering better-for-you products, but also doing it in such a way that makes it easy and doesn't have the consumer sacrificing. At the end of the day, in the United States, we are an obese society – we love to eat and we like to indulge. So the question is, how do you take that reality – none of us wants to sacrifice – and how do you give us a little bit more of what we need but do it in a way that's engaging, delicious and enjoyable.
6. Looking to the future, how do you envision Ocean Spray being a leader in innovation?

I think you're going to continue to see us lead on the flavour front and be a pioneer within juice, with the ability to reinvent juice and make it more relevant for people today. I also think you're going to see Ocean Spray redefining what it is to consume the cranberry, different ways to consume the cranberry, and different ways to get cranberry nutrition. I think you'll see us going well beyond traditional juices and cranberries to expose more people to the benefits that our co-op has to offer.