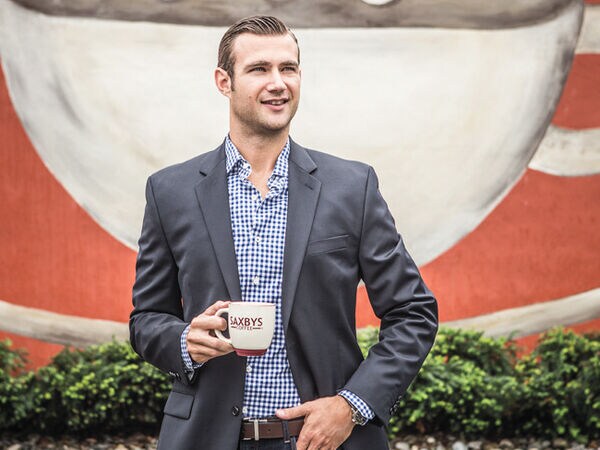 Saxbys is the new force to be reckoned with when talking about the coffee and hospitality industry. Originally based out of Philadelphia, Saxbys prides itself on its neighborhood-centric authenticity that is like no other. Saxbys has taken off since it was founded in 2005, growing to over 30 locations through the mid-Atlantic region. The authentically designed cafes are designed based on the different neighborhoods they reside in, giving each location its own unique feel. Nick Bayer describes himself not as the CEO of the company, but rather the Chief Culture Guru. Nick emulates and harnesses all he knows about culture to really drive the authenticity in each Saxbys that makes each cafe so special to visit.

1. What makes an innovative culture? How do you create a culture of innovation?

Our culture is innovative in itself and is inspired through cultural depiction. A key factor that Saxbys has instilled when considering new hires is based on the person's personality, and not for their knowledge and experience. We differentiate from our competitors because most of them, say Starbucks, hire solely based on experience. Here at Saxbys, we would much rather have someone who is cool and comfortable in their own skin. We are looking for people-persons, people who are unique. We have a term we like to use, O.D.D., when thinking about someone who is to work for Saxbys. The word O.D.D. is unique in itself, but each letter stands for a desired quality we look for, outgoing, detail-oriented, and disciplined. Given all this, Saxbys ensures a cafe with top-notch customer service like no other cafes out there. We also like to employ this policy throughout the whole entire company, whether it be a barista or our vice-president. We can train someone how to use a coffee machine, but we cannot make someone be comfortable with people, and in their own skin. Everyone is ODD!

2. What is the biggest challenge you face when innovating?

One of the biggest challenge we face when innovating -- given that there is a Starbucks on every corner -- when we innovate outside of the scope that they might be doing, people have a hard time accepting our new idea or innovation. They won't accept the new proposed culture.

One of our biggest innovations to come out of the woodwork is our Saxbys app. The app allows our customers to merge mobile payments and loyalty when buying our products. An astonishing 20% of all our transactions are through the Saxbys app. Making people comfortable with Saxbys through the app has been a huge success for us. Again, we do have a lot of success with innovation in the Starbucks realm, and also beyond it. A challenge we do face with regards to this is that if Starbucks isn't doing it, then no one is aware of it and we have to proactively market it ourselves.

3. Looking to the future, how it Saxbys Coffee going to be a leader in innovation?

The most innovative thing we're excited about is partnering with Drexel University in Philadelphia. What we have done is we have opened a Saxbys location on the campus, which is entirely ran by students! And not only that, student can earn credits towards their degrees when they work at the Saxbys. The Saxbys and Drexel University partnership hopes to propel the entrepreneurial culture that flows throughout the campus.
References: linkedin and saxbyscoffee