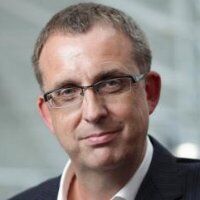 No one understands how to merge tech, innovation and education seamlessly for the modern generation better than the CEO and President of SMART Technologies, Neil Gaydon. Gaydon has built an impressive career at Pace PLC and several other similar positions across the technology industry helping teams use innovation as a brand's driving force to create revolutionary products. In addition, Gaydon focuses on creating strong teams by ensuring that employees have the space and tools they need to unleash their creativity.

Recently, Gaydon has lead his team to the breakthrough design for the SMART Kapp Board, a dry-erase board that enhances global collaboration by wirelessly saving content directly onto smartphones, computers and tablet devices using an accompanying app.

Three Questions with Neil Gaydon:

1. How do you and your team generate good ideas?

We are a company at the end of the day that needs to come up with new technologies. How we go about generating new ideas is by understanding our market and the problems we see out there.

Our overall vision as a company is all about collaboration; every product we design is centered around collaboration. For example, the dry-erase board allows for some degree of collaboration--as long as you're sitting in the room. If you're outside the room you can't follow along and it's also extremely difficult to save and share with people to speed up communication.

The question was, how do we at SMART make something as simple as a dry-erase board? What if we took a standard pen and wrote it on a piece of glass and it appears on any device? This was the breakthrough. The next step of innovation was if we were to connect the dry-erase board to a phone, rather than building all the phone technology into the board, it means you can keep the costs much lower and as the phones continue to improve in their power, Kapp will continue to improve as well.

Anybody can write with a pen and use a smartphone, so we've seamlessly joined the world of analog and the world of digital.

2. What makes an innovative culture? How do you create a culture of innovation?

Inherently the real world competition drives the need for innovation in an organization. The skill you're always trying to have within a company is that innovation and ideas aren't lost or trampled on because you didn't really understand exactly what was meant. Ensuring that people get their time and voice out is really important. We have a software program that runs at SMART where people can put forward their ideas and they can be properly reviewed.

However, [this] is a commercial organization so [ideas] need to be in line with our vision. People do have--and will continue to have--all sorts of ideas that if we were a different company or had a different vision we could probably go and explore but, you have to keep a tight reign on where you can put more resources to check ideas out. It's an important process between encouraging innovation, new ideas and trying to ensure that they drive forward our vision of collaboration and not take away from our overall strategy.

The process of innovation--and one of the things we try and push at SMART--is that there is a myth that [innovation] is a preserve of a handful of people who have creative and innovative ideas and others don't--and it's just not true. It's actually about encouraging people to think really long and hard about how something works and making that better--which everybody can do.

Then when you've come up with the overall idea, [it's about] how do you relentlessly keep asking the questions to drive more innovation to come to those solutions that make your product so compelling and so easy to use at the end of it.

3. Looking to the future, how will you continue to be a leader in innovation?

It's about a restless desire to win, to change this world for the better and to create cool products that you can be proud of. Our personality as a company is enshrined in the three C's. Firstly, Curious (curious about the world around us, how to make things better, to what our customers want and how to work better with our internal customers), secondly Connected (connected to each other, to our customers, to our technologies, to new materials and how they might be used to make things better) and lastly having the Courage to go, "I think we have something here let's go execute and make it happen."

Having a language within the company helps employees know that what they do isn't just needed--it is vital and the entire life force of the company.