Strategizing an Innovation Equation (INTERVIEW)
Navrina Singh, Director of PM at Qualcomm Labs
Related Trend Reports
Art & Design
,
Business
,
Computers
,
Food
,
Gadgets
,
Health
,
Home
,
Inventions
,
Lifestyle
,
Marketing
,
Mobile
,
Multimedia
,
Retail
,
Tech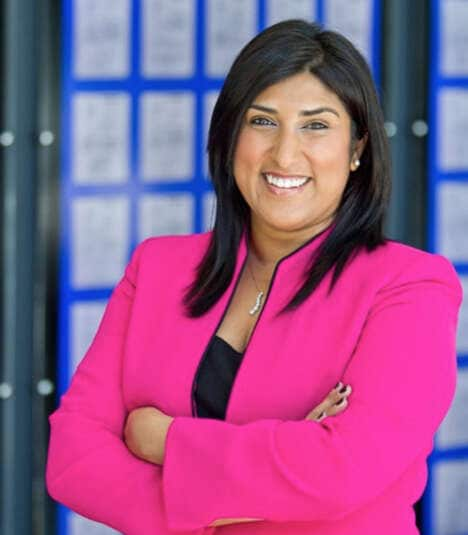 A passionate leader that wears many hats at Qualcomm Labs, Navrina Singh holds the formal title of Director of Product Management and heads the Qualcomm ImpaQt program that looks to foster an idea incubating engine and innovative culture at Qualcomm, the global provider of wireless technology and services. Singh also founded QWISE (Qualcomm Women in Science and Engineering,) which looks to help support the personal and professional development of Qualcomm's employees with a special focus on women. Established in 1985, Qualcomm is the leading fabless semiconductor producer of powerful wireless chipsets, processors and software that drive mobile technologies forward. With ImpaQt, the Qualcomm team is ensuring that each member of the organization is connected, informed and able to discuss their latest ideas in an environment that's open to new ways to innovate.
8 Questions with Navrina Singh
1. How does your team generate new ideas?
With ImpaQt, there are three steps that we go through to start the process. First, we educate our team members on the strategic goals of Qualcomm; who we are, who our competitors are, what they're doing etc. Once the educational aspect is complete, we move on to providing them with the right tools to succeed. In each case, their needs will be different. We are equipped with a breadth of resources throughout Qualcomm to bring in the appropriate skills: design, development, business, finance, market research, etc. Finally, we make sure that our inventors and their ideas are getting the right kind of exposure. We want to make sure that we give them access to decision-makers throughout the company, as well as our top executives, so the right conversations start happening and the ideas can be developed or pivoted to support the needs of the company. All of this is necessary because we've found that if you don't have the right kind of innovation practices and process available along with a focus on the inventor, then it can be difficult to get employees to lift their heads up from their daily routines to share their ideas.
2. Do you have specific rituals for re-setting your team to be creative?
Absolutely. My team can get very busy, so every six months, we'll do a field trip or an excursion to get them thinking about something new. It's really important to pull them out of the "ordinary" and expose them to new ideas, new challenges, and new technologies. The Qualcomm CodeFest is a great event where team members are put in a more competitive environment to really push their boundaries. We're also involved with IDEO for developing a more human-centered design approach.
3. How do you identify trends? What resources does your team use to spot trends and consumer insights?
One of the key things that we were very mindful of when developing our innovation program was having a clear definition of what innovation is and means for us at Qualcomm. Additionally, we go to conferences, do research in the mobile world, study how people are thinking about the future of technology in other markets outside of our existing areas of business, read about changes in how people live, interact and so on. We have a partnership with the Institute of the Future to add to that, so when we see opportunities on the horizon we can adjust accordingly. One of the best features of ImpaQt is that we're connected across the entire company, so we're actively bridging connections to create discussions on new thinking that might not happen otherwise.
4. What is the biggest challenge you face when innovating?
I think the biggest challenge is getting the right elements to come together -- getting the right ideas, the right people -- and developing the idea into a form and function that our stakeholders at Qualcomm can really buy into. At times, it can be challenging, but internally, we have an amazing support team. And ImpaQt is sponsored by our CEO, who is extremely dedicated and passionate about everything that we're doing, so that in itself helps us when facing challenges.
We have such a passionate network of employees, but it can still be tough to balance work, life, and the additional opportunity to develop their idea in ImpaQt. We get a lot of great ideas and can't do them all, so taking things in stride is an important element. For those that are chosen, making sure that everyone is able to balance everything they need to take care of in their day job, in addition to their ImpaQt idea, is something we're always working on.
5. Have you identified any gaps in your innovation process that you're looking to improve on?
I'm very proud of the fact that many companies are looking to us when it comes to innovation. With regard to ImpaQt, we've addressed several of the main issues that used to exist by making inherent changes to our process and the culture of our program. We're proud to be seen as a role model in the industry, having had other companies use us as an example of how to foster internal innovation. Our business model rests on the core belief that great ideas can come from anywhere in the organization, and we're always looking to improve our program and innovation platform.
6. Has there ever been an instance where another industry has influenced an innovation at your company?
One of the things that we don't do here is become complacent. We look at a lot of different industries. One area of particular interest right now is healthcare. With Qualcomm Life, for example, we have the 2net platform, which is a health-monitoring system that helps bring together vital data in a more uniform way to support mHealth providers and users. We're also always looking at the mobile industry and how it is expanding. The automotive market is an example of that. Through our partnerships, we strive to find the right new areas that we can help to expand through wireless and associated technologies.
7. What makes an innovative culture? How do you create a culture of innovation?
The key aspect is people. Hiring the right kind of talent and nurturing that talent is really the key to our delivering the next big innovation. For innovation to thrive, it is necessary to create a safe environment where everyone feels comfortable expressing his or her ideas, without fear of any consequences of failure. We recognize that you have to be comfortable with whom you're sharing your ideas with to foster an innovative culture. Providing the right framework so everyone feels that their ideas are getting the right kind of attention is pivotal to engagement and finding that next big idea.
8. Looking to the future, how is Qualcomm going to be a leader in innovation?
By continuing to do the things we've done so well since our founding. Having the leadership that people really believe in is going to help us continue to be a leader in innovation. It started with our founder Dr. Irwin Jacobs, and it continues with his son Dr. Paul Jacobs, our current Chairman and CEO.
Through our technologies, we are influencing the way that people connect around the world. It is an inspiring mission. We started with a small network of inspired people that has grown to be the innovative culture it is today.