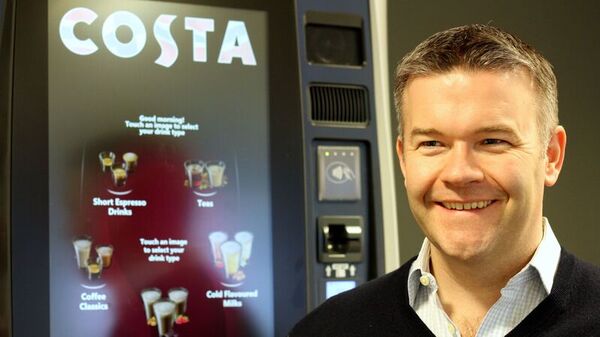 Founded in 1971 by an enthusiastic coffee family, Costa Coffee has absolutely taken off since its birth and is showing no signs of slowing down. With 3,125 Costa Coffee houses in over 30 countries, it boasts being the biggest coffee chain in the United Kingdom. With such success, this has allowed the conglomerate to venture into new verticals, leading it to acquire a company called Coffee Nation that would soon be re-branded and renowned as Costa Express. Costa Express has grown from 870 machines when the business was first acquired in 2011 to almost 4,500 today across the UK and 8 international markets. This acquisition has allowed people all over the world to access the delicious quality Costa Coffee from a unique, innovative piece of technology from wherever it is setup.

Murray McGowan, Managing Director for Costa Express, has been with Costa for a year and a half now. Murray spent his early days with Costa working on group strategy and travelling around the globe, looking at how Costa could grow faster in international markets. With a recent restructure, Murray has earned his role at the Managing Director of the Costa Express business, and will continue to build the brand with the passion that he has always exuberated.

3 Questions with Murray…

1. What makes an innovative culture? How do you create a culture of innovation?

The background for Costa Express as a division was from the acquisition of Coffee Nation by Costa Coffee. Even with this acquisition, we have tried to maintain the innovative culture of our company since its original startup. One thing is that we are always challenging and driving the business to continuous improvement. We never want to settle. We are striving to be the best, and to keep it that way. We are aiming to be the world's leader in self-served, barista style coffee on the go. To do this, you must continually challenge yourself to do things better. We want to remain nimble. We came into Costa as a startup and want to maintain this sense of start-up culture.

2. What is the biggest challenge you face when innovating?

There are three main areas for us. First is, how we ensure that we stay small and nimble and keep our teams driving toward innovative projects. Second, we want to make sure we are keeping things in perspective and to not get lost in the day-to-day work. We try to separate our innovation teams from day to day work, to enable them to retain focus, to take away to constraints of their everyday roles. Third, thinking internationally, as we started to grow outside the UK we asked ourselves how do we adapt to see what is working for us in the UK and apply it to international markets. We need to keep focused on our quality coffee and how we are the best self-served, barista style, on-the-go coffee in the world.

3. Looking to the future, how is Costa Express going to be a leader in innovation?

For us, we have established the on-the-go barista style coffee market. We lead the market by some margin. We are always asking ourselves how we keep leading, how we continue to fight like we are number two rather than number one. How do we be better in the market? Looking beyond what is immediately in front of us will help us thrive in the long run. As a company we have a relentless desire to keep improving, to enhance, and to continually challenge the ways we do business. Being an innovative company inside a larger company and maintaining what made us special in the first place. We are always looking outside our own industry and outside our own business.