Creating a Hub for Innovation
Lib Trombetta, Dir. of Innovation & Technology, Mother Parkers
Related Trend Reports
Art & Design
,
Branding
,
Business
,
Credit Crunch
,
Design
,
Drinking
,
Fashion
,
Food
,
Health
,
Home
,
Kitchen
,
Lifestyle
,
Luxury
,
Marketing
,
Media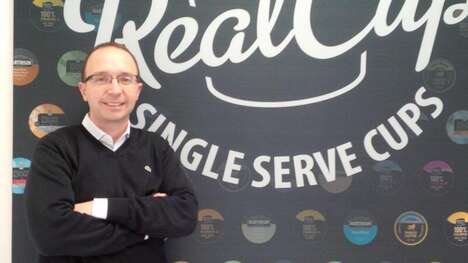 On a typical day, a company's collective innovation process may begin when its employees walk through the door, and stop when they leave at the end of the day. But at Mother Parkers Tea & Coffee, Liberatore Trombetta is trying to ensure that, come day or night, that process never ceases.
That's because in his role as Director of Innovation and Technology, Trombetta is in the process of creating a fully-fledged 24-hour innovation cycle, which will mean that information originating on one side of the globe, passing through the other and returning, creates a seamless, circuitous "baton" concept that ensures Mother Parkers stays ahead, literally, of its competitors, in spite of any time differences.
While the process requires discipline, communication, commitment and effort, Trombetta tells TrendReports.com that by having and pursuing a single agenda on all fronts, Mother Parkers can enhance its innovation process and ultimately serve its customers by staying relevant and ahead of the curve as possible.
Three questions with Liberatore.
1. How do you reset your team to be creative?
I reset [my team] daily because the philosophy is there's so much activity going on globally that what I like to say to my team is, 'While you were sleeping, the other side of the globe was awake innovating'. We want to make sure that what we're creating is still relevant so we have to measure that very much on a daily basis. If you design it, and you don't measure yourself on a daily basis, and launch it, all of a sudden you can find yourself far off your trajectory because the market has moved.
2. How do you create a culture of innovation that is unique from your competition?
There is a model that we're trying to develop right now, which is a 24-hour innovation cycle. The unfortunate thing is we need to sleep, eat and do other bodily functions, which is time away from innovating and advancing your ideas. The concept that we're trying to evolve right now is to run a 24-hour innovation cycle, because we know our competitors are going to work on an 8-hour basis. So you think about how that would work conceptually; if you could innovate for 24 hours, and your competitors are doing an eight hour innovation cycle, you are technically two days ahead of your competitor. By continuing 24-hour innovation, you compound your time advantage, creating a large time advantage versus competition. Should you stumble along the development path, which happens from time to time, the time advantage gap created allows "time for failures" without significantly jeopardizing your ability to bring innovation to market first. And we all know, nobody remembers who came second, so being first is everything.
The most important component of our development cycle is to fail – fail faster than our competition – and get back on our feet and never repeat our failures again. That's the key to our success – to fail fast and to not repeat the mistake, and to work as close to a 24-hour cycle as possible. The way we can do that is use parts of the globe to help us. We have a baton theory where we start off in the East and end in the West, completing a 360-degree cycle of innovation. The personalities that are involved and the baton have to be team players with a strong desire to win. The primary cornerstone to our innovation cycle, as you can imagine, is alignment – we can have only one objective and only one agenda.
At a lot of other companies that I've worked in, they have the same kind of concept where they have a R&D group that may be in Europe and another in Asia, but their model is a little bit difference because they create a competition model where they say, "Ok, Asia and Europe are working on this specific project. Whoever gets it first gets the success." That's a duplication of efforts and a waste of resources in my opinion, so we're really trying to flip that model on its head and reinvent it so that there is only one agenda linked to the sequentially development "baton" model (geography to geography.)
3. How does Mother Parkers align this agenda across the globe?

One simple answer: we hire great innovation champions and it's these innovation champions that manage and monitor the key global development partners (sites.) Our innovation champions are hired by discipline. Like a main street, we look for a butcher, baker and a candlestick maker. Unless we really need to, we don't try to hire people with duplicate skill sets. There may be some overlapping skill sets, but never duplicate skill sets.
We do that for very specific reasons, because then we can have distinct ownership; people feel that they are recognized for being unique and making contributions to very specific areas, and that's an incredibly important piece when you're trying to build this 24-hour innovation cycle. If you look at our cross section of talents, we have people with PhDs, engineers in a variety of disciplines, and we fervently believe in hiring out of universities. This diversity of talent is critical for us because we know that the future trends and needs will come from youth (consumers of tomorrow,) and we love to have that fresh perspective, that untainted mind coming to the table and pushing us to ask "why."
Further, we complement our internal talent that with external partners – we work heavily with academia – which is again another way of stimulating the team that you have on board because they love to work in this white space. Plus, we spend a significant amount of time mining IP (patents) to new and fresh ideas and technologies. I think the best description for a culture is we're trying to emulate Google in all aspects, but in the food space, and we want to be a destination for talent. I would say that is my number one priority, to be the the number one destination for the best talent Canada has to offer and unleash their potential.