Crowd Sourcing Fan Insight
Min-Liang Tan, CEO, Co-Founder & Creative Director of Razer Gaming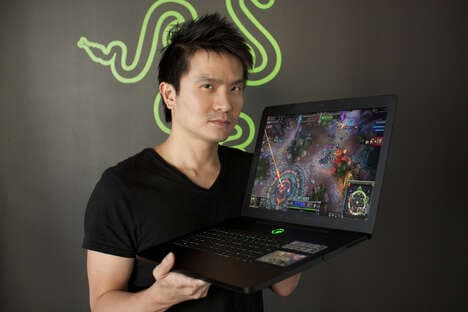 At Razer the engineers, scientists and developers who design the iconic products happen to be passionate gamers themselves. The multi-award winning design team at Razer California is lead by a strong dedicated leader Min-Liang Tan, CEO, Co-Founder and Creative Director.
The unique gaming hardware manufacturer co-develops its products along side professional gamers. Min-Liang Tan produces premium gaming hardware for gamers, made by gamers.
"There are no barriers between ourselves and the customer. Any customer can reach-out to me through social media, various internet forms and events." Tan explains.
Min-Liang Tan and his Razer team redefine customer service. There is a sense of community and friendship at Razer that goes beyond exceptional customer service. Tan expresses that he is the creative lead at the company who makes sure others concepts and ideas are followed through and come to life. A big part of the idea generating process comes from Razer fans and consumers. Razer's social media interaction with consumers is its greatest source of insight, "We often get great ideas in-boxed, emailed or private messaged to us."
Razer was founded in 1998 by a team of engineers and creative souls who developed a high end computer gaming mouse, called the Boomslang, targeted to computer gamers. The massive commercial success of the initial Razer Boomslang, Razer Diamondback, Razer Orochi and Razor Mako has lead Razer to further and grander gaming ventures today.
The portable Razer Blade Pro PC and Razer Edge tablet are designed specifically for gaming. Since Razer specializes in making portable gaming PCs and hardware, the company doesn't encounter many competitors. "We are our own biggest competitors." Tan exclaims.
Min-Liang Tan isn't the typical suited-up CEO, he's a gamer at heart who innovates the Consumer Tech industry one raid at a time. The Razer team works hard, and plays hard -- where play is work!
Four questions with Min.
1. How does your team generate new ideas?
Our team generates ideas in two ways. Everyone at the company designs for gamers and they are gamers and users themselves. Also, everyone is encouraged to make suggests whenever they want. The second way is externally crowd sourcing and getting the fans to participate. We engage in a lot of social media with our fans. We are quite active on Facebook and Twitter. We often get great ideas in-boxed, emailed or private messaged to us.
2. Do you have specific rituals for re-setting your team to be creative?
We don't necessarily have any specific rituals. We like to run our company as a flat structure, meaning all employees have direct access to the decision makers. Employees can go on Facebook, YouTube while working. We can reach out to anyone in the office by maintaining an open space. The innovation aspect is part of my job, and making sure that those ideas expressed in the office are followed through. Innovation happens every day. There is always access to resources for creating prototypes.
We also have three week sabbaticals where employees get a paid holiday to come up with one idea, to really get them thinking outside the office. Innovation can happen anywhere.
3. What is the biggest challenge you face when innovating?
One of the biggest challenges we face is deciding which one of our many innovations and ideas we want to pursue. Ideas are worthless if they don't become reality. Also, another big challenge is innovating over and over again. The key is filtering the hundreds of thousands ideas and coming to the single liner of the concept. We've become good at filtering the key single liners, but it is a challenging task. With so many ideas internally and externally choosing the right one can be tough.
4. Has there ever been an instance where another industry has influenced an innovation at your company?
Yes. The fashion industry. We often don't feel like we're creating consumer electronics, but art rather. Fashion inspires us often, it brings a broader spectrum of experience. Our designs have been inspired by jewelry or fashion. Honestly, we spend more time looking outside our industry rather than within it. Gamers definitely have a stereotype, but we like to keep it simple and sleek like our Razer Blade Pro Laptop.