Innovative Adaptation: Reebok's 'Express Your Strong' Campaign
Michelle Lea, VP Reebok Canada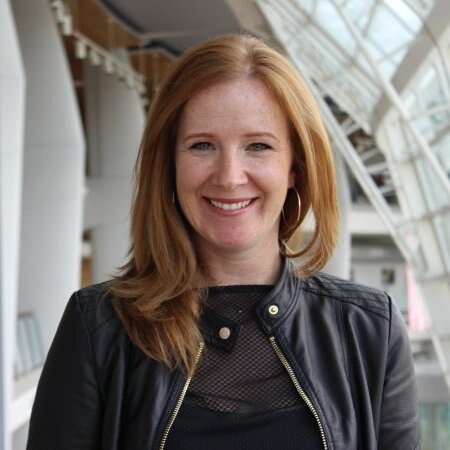 Fitness is first and foremost what Reebok does and they're looking to be the #1 brand in Canada. More and more, we're seeing consumers desire to have their favourite brands integrated into their entire lifestyle in an authentic and genuine way. Enter Reebok's Express Your Strong campaign! Launched earlier this month, Reebok selected 6 Canadian women to be part of Express Your Strong, where each one had an inspirational, yet unique story about how fitness changed her life for the better; not just physically, but mentally and socially as well.
The project is being led by Michelle Lea, VP of Product & Marketing for the Reebok brand in Canada. She oversees a team of 20 responsible for product introduction, research, and marketing in the Canadian marketplace.
5 questions with Michelle:
1. What makes an innovative culture? How do you create a culture of innovation at Reebok?
For us culture is very important. We are first and foremost a fitness brand; everything we do ties into that and we make sure that our employees really embody that same lifestyle. When you live the lifestyle, it's easier to engage with the consumers in that space. Innovation for us is really about creating the best products to help people achieve their fitness goals.
That's part of what makes Express Your Strong so great! Whether your preferred activity is Crossfit, yoga, running, dance or Spartan races, we're really inspiring women to get out there and take control of their well-being. Creating products and building campaigns specifically for women has been gaining traction in the broader marketplace more recently, but Reebok actually began as a fairly female-focused brand so now we're kind of getting back to our company's roots!
From a broader group perspective, we actually launched something called the Adidas Group Innovation Academy: a series of online modules that encourages all employees across North America to think differently. Part of the program is to have employees submit ideas pertaining to any part of the business, and allows others to build on these ideas. The best ideas move through the process and in the end will be presented to a panel of judges. Not only does this program encourage innovative thinking, but it creates an environment of collaboration and teamwork which is very important to us.
2. What is the biggest challenge you face when innovating?
In Canada specifically we don't always create new product lines, so innovation for us is focused more on our marketing and communications. We're always looking for the latest trends, whether related to product, marketing or fitness activities in all spaces: digital, social or leveraging traditional media. This realm moves at the speed of light, so always being at the forefront can be challenging.
3. How do you find ideas from adjacent industries? Or do you focus mostly on your category?
We definitely tend to focus on fitness, but we do partner with some groups that help authenticate our position in fitness and provide additional insights from consumers. We partner with CrossFit, Spartan, GoodLife gyms, etc. and we rely on them to give us insight into what directions they're moving to see where we can align with them. The more aligned we can be with our partners, the better we're able to further engrain that whole fitness mentality into our consumers.
4. Looking to the future, how is Reebok going to be a leader in innovation?
I think for us it's a few different areas. Innovation is absolutely a global priority for Reebok, so we have the Global team behind us looking into new innovation and design all the time. Again, staying ahead of the trends is important so we have lots of brainstorming sessions here in Canada, which ties into our whole innovation academy. Those sessions have led to different ways of doing things so we're going to keep on that platform and keep communication open.
5. Why did you chose to launch Express Your Strong now?
We did it for a couple of reasons. First, January is a huge time for fitness with our consumers so it was timed to coincide with New Year's resolutions to work out and stay active in 2016. We always encourage people to make those resolutions, but now we're also inspiring them to stick with it and improve their lives through fitness!
When you look at consumer behavior more broadly, we launched the campaign to match the current landscape. Traditional methods of reaching your consumer – like T.V. – are becoming less effective. We considered the switch to mobile, the ways we speak to female consumers, and worked to simplify the process. Switching to this social and digital platform allowed us to target that consumer directly and tap into the new ways that consumers digest information.