Strengthening Brand Loyalty Through Innovation (INTERVIEW)
Michael Stromer, JetBlue VP Marketing
Related Trend Reports
Art & Design
,
Business
,
Design
,
Games
,
Interactive
,
Lifestyle
,
Luxury
,
Marketing
,
Social Media
,
Tech
,
Travel
,
World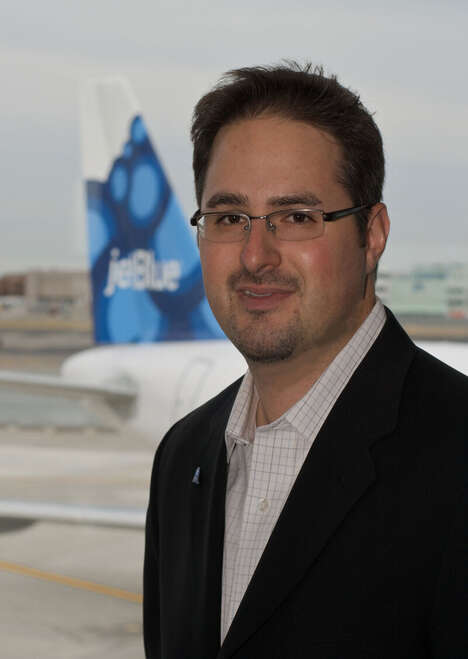 Inspiration for creativity and innovation can come from anywhere as Michael Stromer has experienced with his six-year background as the Director of E-Commerce for JetBlue. Currently working in the capacity of Vice President of Customer Connections Marketing, Michael still utilizes his digital know-how to implement effective loyalty marketing plans that strengthen the ties between the airline and its customers. By creating a more social experience for customers online through mobile and online applications, Michael has managed to actively enhance brand loyalty during his time at JetBlue.
3 Questions with Michael Stromer:

1. How does your team generate new ideas?
We use many different forms to generate new ideas. Ideation doesn't just happen when we're sitting in groups and meetings; we have a culture that is always focused on innovation, from the senior leadership to the frontline. We encourage our crew members to come back with any ideas they have about doing things differently and we are always thinking about opportunities to challenge the status quo. We do a lot of empathy work which is a spin on the traditional focus group, based on speaking to customers in the environment in which they are using the product, i.e. at the airport and on the plane. This method provides a more genuine response from customers as well as the crew, often resulting in some of the best ideas. We also look at what is going on in the world such as fluctuations in the economy and trends with social followings. Our customer connection advisory board ignites the conversation about different topics and we often look outside the airline industry for inspiration which can come from retail sites social media and the gamification of companies.
2. How do you create a culture of innovation at JetBlue?
JetBlue is a strongly defined brand with key brand values that are ingrained in our culture. Each idea must meet the expectations of our brand and we keep this in mind in order to reset and think about ideas in terms of meeting the criteria. Setting "Buzz Goals" helps garner lots of media attention and increase customer satisfaction. We want to achieve a certain number of "Buzz Goals" and, in our brainstorming sessions, we try to come up with unique ideas that often lead to some of our most popular programs. The most successful ideas tend to revolve around topical news events and things happening in the media; it's about finding good stories that will give the brand strong social appeal and make us go viral while keeping the execution of ideas fairly simple. The challenge is coming up with the ideas in the first place as we try to think of things that aren't necessarily common place; for example, when hurricane Sandy hit, we didn't want to do the typical food drives and t-shirts for charity, we got 31 food trucks going in order to hand-deliver hot food to more than 30,000 people. The execution of this program was turned around within 24 hours of conception, building off other ideas in a workplace culture where everyone's ideas count.
It is important in our hiring process that the new crewmembers we hire thinks differently and sticks close to the JetBlue culture. We have a diverse workforce and many of the ideas and trends out there are already followed by these individuals. We then use various measurement tools, including social media monitoring tools, to keep track of the behavior of our consumers and their attitude towards the brand, so that we can get a true sense of the voice of the consumer. We can keep track of how our customers feel about the company and solve any issues that arise before they get too big. Good customer communication is something we strive for as a company.
3. What are some of the challenges you face when innovating?
The airline business is very operationally driven with lots of challenges. We look at what's happening right now with the customer experience so that we can make sure we're always delivering on our promise. Innovation is about thinking of the future and what the business will look like in 4-5 years. It's not an easy challenge to find the balance between what we need to accomplish by tomorrow versus a few years down the line. As an innovator, you need to multitask and think about the longevity of each program and how it would apply to the JetBlue business in the future.
When it comes to overall customer expectations, we are bench-marked against other customer service industries, not just those of other airlines, so it is important to stay competitive by looking for inspiration outside of the company. Some of the best innovation happens outside of the airline industry and we make sure to leverage that as inspiration for our own business.