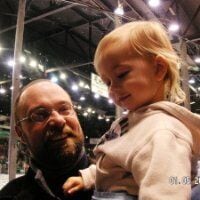 The renowned coffeehouse franchise Biggby Coffee was founded in 1995, meaning it recently crossed over its 20 year anniversary in the business. The company is based in East Lansing, Michigan, in which it operates under a franchise model that has proven to be of great success. Biggby is now close to having 200 stores across the United States that offer a wide variety of great tasting coffee, along with other beverages.

Michael McFall is now both a Partner and also the President of the organization, which came from a long journey of hard work and tremendous effort. During Michael's early years, he was able to travel all over the world and was able to study abroad in areas such as West Africa. Michael has been with Biggby since the base foundation was built. He started as a barista at the first shop to ever open. Through hard work and dedication, Michael was able to show his integrity and 18 months after starting as a barista, he formed the management company that controls the franchise system today with partner Bob Fish. Together they have laid the ground work for the success it bolsters today, projecting over $100 million in revenue this coming year.

4 Questions with Michael:

1. What makes an innovative culture? How do you create a culture of innovation at Biggby?

I think if you pay attention to what is happening in your world and you try to enhance/focus on the things that are working in your world, you will see success. We let our people push the envelope and allow them to find out what works and what doesn't work. That doesn't come from one mind, it comes from various minds within the organization. I think innovation is a moving target… you have to innovate in certain areas during certain times. We do things differently and we typically don't pay attention to what others are doing. We focus on what our customers are asking for and what they enjoy. Being in touch with our consumers, bringing in what they want and continuing to improve the customer experience.

2. What is the biggest challenge you face when innovating?

In our case, we have almost 200 franchised stores and when you innovate, not everyone is on board. In a corporate environment where you own every store, you can tell people what to do. What we have learned is that innovations don't work well typically unless everyone including the people who will be executing it are on board. Our challenge, since we are so diverse, is if the owners don't think it's a good idea, they will not pursue it.

3. How do you find inspiration or ideas from adjacent industries? Or do you focus only on your category?

We pretty much stay inside our own world. We do look at some adjacent industries, like the food industry. We do offer some food, but not much. That being said, we do have a cinnamon toast crunch bagel that is delicious! We like to innovate around a particular area of products or systems that are already working, take what is great and make it better.

4. Looking to the future, how is Biggby going to be a leader in innovation?

Our operators are really helpful and they bring a lot to the table. In a franchised company, a lot of the innovation comes from the owners who are interacting with the consumers day in, day out. You have to have really smart and interesting people who want to grow the business. They are going to lead the innovative process. Innovation to me is about being a forward-thinking company and trying to improve every single day when you wake up in the morning. We have really evolved over the years. A lot of the innovative things we have done is the reason we went from $0 to $100 million in revenue. We just have to keep doing what we're doing.