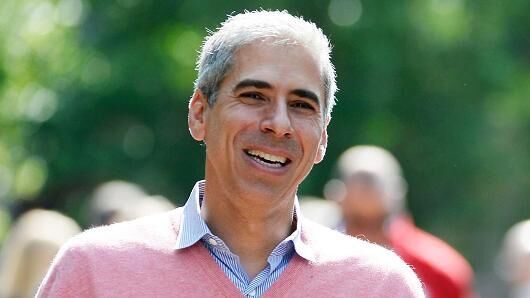 Juice Press as a company is known to be one of the largest cold-pressed juicers with multiple locations based in New York City. Founded in 2010, the brand has seen unprecedented growth since its beginnings and is showing no signs of slowing down. They already offer over 65 types of cold-pressed juices, including cleansers, immune-builders, as well as smoothies, organic foods and desserts.

Michael Karsch is the lead investor for Juice Press and has been in the hedge fund business for 20 years now. It was when he took two years off from managing outside capital, that he discovered Juice Press through a good friend. Michael has always had a good sense and natural flare for retail with his stock market background. He understood the structure that needed to exist to see the significant growth it has inevitably seen. Michael believes very strongly in the health and wellness trend and hopes that it is only in its early beginnings so it can continue to flourish.

5 Questions with Michael…

1. What makes an innovative culture? How do you create a culture of innovation at Juice Press?

One way to create an innovative culture is to have a diverse set of people with regards to their creativity, because innovation can be defined in a number of ways. For example, at Juice Press, we have a founder who knows about nutrition, has kept on top nutrition trends and has a very strong idea on the products we can offer. Marcus was very innovative in a couple of ways: he has a strong feeling for cold-pressed juices, also, in terms of being artistic, he sees veganism as more hardcore and less of a hippyism. There is also the chef himself. He has the innovation arm in terms of taste and the texture of our products. The innovative culture, when looking at someone like myself, looks at innovation backed by economics and listens to consumers. We have to be innovative in this realm. Recognizing this creativity and also having this culture to balance where people feel ideas are welcome and seen in a positive light. Everyone respects everyone's views. We like to build upon people's ideas rather than creating a "you vs. me" culture. It is a collaborative environment.

2. What is the biggest challenge you face when innovating?

A lot of the stuff in regards to a hedge fund… the biggest obstacle is that people see their ideas as territorial. People don't feel they can build upon an idea to maximize its potential. Also, I think people can become very positional in the way they think. If an idea is good but doesn't have an economic return, how you go about thinking about this?

3. How do you find inspiration or ideas from adjacent industries? Or do you focus only on your category?

I believe in terms of stocks and juice and that innovation come from laterals all the time. For example, we have a tremendous number of SKUs in our store. Like an analogy to Foot Locker, they have lots of shoes, but it can be overwhelming when you first walk in. We're thinking about how we can train our employees in order to help with this overwhelming experience and how to set up a store to have a positive retail experience, rather than an overloading one.

Also, I look at companies like DAVIDsTEA. I definitely take note of what they're doing and try and apply it to our world. I look at it and see that their gross margins are extremely high. I ask myself, who is their consumer and how does it overlap with ours? There are a ton of lateral thoughts that I can bring to Juice Press.

4. Looking to the future, how is Juice Press going to be a leader in innovation?

I think that Juice Press will continue to be a leader because of where we are right now. It is very fair to say that we are the most innovative beverage company in NYC and perhaps in the whole entire cold-pressed juice industry. We have 65 flavors in our refrigerator and only keep our product on the shelves for 48 hours tops. We are well-rounded, but also have the shortest shelf life from smoothie blends, morning drinks, to fruitier dessert like drinks, even energy and workout drinks. I firmly believe Juice press can lead and the sales are showing this result.

In terms of moving forward, I think right now there is very little in the store level for cold-pressed juice. There are very little to no competitors. People are looking at juice in a very narrow way and aren't seeing beyond just a juice bar. Since our sales have taken off, we can put a substantial portion of our money into innovation and widen this gap dramatically.

5. Have you identified any gaps in your innovation process that you're looking to improve on?

There are always gaps. The fundamental question is who will run the innovation department? There are so many great talents out there… how do you setup your department? Is it better to have the person in charge as more of a generalist, or a specialist? More culinary, or marketing? This is the essence of trying to figure out innovation.
References: linkedin and juicepress