Innovating Through Ethnographic Immersion
Michael DiTullo Chief Design Officer at Sound United
Related Trend Reports
Art & Design
,
Branding
,
Business
,
Computers
,
Design
,
Fashion
,
Gadgets
,
Internet
,
Lifestyle
,
Luxury
,
Marketing
,
Mobile
,
Multimedia
,
Pop Culture
,
Social Media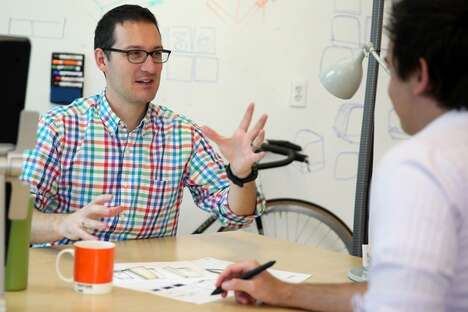 The Chief Design Officer at Sound United, Polk Audio, Definitive Technology and BOOM -- Michael DiTullo, is a dynamic person with a passion for bringing creative design to life. As I chat with him via phone conference he tells me that he's sitting in a retro phone booth at the company's newly renovated headquarters in California. The laid-back creative office atmosphere and vibe shows through Michael's well spoken persona.
Attending the prestigious Rhode Island School of Design and the Cleveland Institute of Art; Michael gained an impressive designing track record. He's worked with companies like: Nike, Converse, Frog Design, Evo Design, Google, Motorola and Honda. Not to mention, he's designed side-by-side with celebrities like Michael Jordan and Derek Jeter. At Sound United he is responsible for ethnographic research, product definition, product line management, design strategy, brand positioning, industrial design, and creative marketing.
The Sound United team immerses themselves in culture, music, and user lifestyle to truly create a sound unlike any other with aesthetically organic product designs. Michael explains that "Companies tend to have a top down culture, and we try and create a bottom up culture. Everyone can develop an idea and pitch it to the leadership, that kinda culture is really empowering and successful." Innovation comes naturally when a company like Sound United is ethnologically immersed within its demographic, and most importantly surrounded by artistic creativity.
Six Questions with Michael DiTullo:

Q1: How does your team generate new ideas?
Our approach is to not think about it as generating ideas but rather finding them by in-bedding ourselves in a culture -- like musical culture, interior design or fashion. Working really closely with our users and doing ethnographic research allows us to continually unearth concepts or bubble up opportunities. I learned at Nike to always stay in the market, and learning from the consumers. When I think of really great ideas, they're like waves in the ocean and you can't catch a wave. You have to get up on the surfboard and catch the wave, other people will ride the wave too but you have to showcase what you can do with that wave. The company has a 40 year history, with the best sound. Three guys who wanted to make your living room sound like a concert hall.
Q2: Do you have specific rituals for re-setting your team to be creative?
Ya, we do some micro and macro scale activities. We have "re-set days" where the whole design team goes somewhere, like a town or restaurant just to get out, observe people and have some talks outside of the office. Our products live outside the office so it's easier to visualize them outside our contained world. We recently renovated our headquarters, removed all the walls separating people to create an open space. We wanted to minimize meetings and have casual conversations close by. We try to make our space as fun as possible. We have phone booths for phone conferences, ping pong tables, and we even has a street artist who came in and made wall murals. Were company made up of people who love music, we have a lot of musicians and artists working here. We work hard and late so -- we try to facilitate a collection of friends. Another interesting thing is our growing design library. Every week we buy a design book and add it to our shelf. In a digital world its cool to have books here that we can open up and physically read. We encourage people to bring things in from outside that inspire them somehow, like I bought a bottle opener the other day because it was cool with an interesting design. We surround ourselves with interesting materials, because we're trying to make products that don't feel like electronics. We don't want our products to look like the classic bulky electronics, we want them to look like a piece of decor that complements their home.
Q3: How do you identify trends? What resources does your team use to spot trends and consumer insights?
Everything! We try and write up our own internal trend reports which we distribute to sales and other industry individuals. It's human nature to get attached to what already exists, people often develop blinders. Our job as the design team is to educate people in the company that they can be advocates for design. We also love to surfing blogs, and websites like Trend Hunter and integrate those ideas into work. We are a medium sized company. We don't believe in the shot gun approach; we try to identify a trend and create a product collection. We pin point a certain culture of individuals and we design 5 or 6 things that all go together really well for them.
Q4: How do you ensure you're getting trends/insights information that your competitors aren't getting?
That's where our first hand stuff comes into play. Scouring small boutiques and antique shops, not just the same places where other industry individuals would typically go, look at people are reading, what people are into. We do tons of ethnographic research and spend a lot of time with people. Each brand has a different type of person that we're are aiming for. We identify a small group of people who have a certain persona, and we make a series of products for them.That keeps us different and in a different space than other companies. We try not to look at our own industry too much. We look at what's going on in furniture, in fashion, in footwear, even purses -- that's what keeps us fresh and unique.
Q5: What is the biggest challenge you face when innovating?
There's a number of challenges. Time being the biggest challenge. It takes more time to create a unique product. For example, our Woodbourne speaker came out a few months behind schedule because we wanted it to feel like a mid-century piece of Danish furniture with an extremely high quality-- so that takes time and experimentation and that adds to cost. We challenge ourselves by saying, "How can we make something unique but control time it takes to produce it, and make it affordable. Creating great products that produce superior music and sound at an exceptional price point is challenging. We want everyone to benefit. The Consumer Tech industry especially, needs to be five steps ahead of everyone. We always have to innovate years in advance.
Q6: Have you identified any gaps in your innovation process that you're looking to improve on?
It's a continual process. Innovation is something new so you need a new process every time. Think of Einsteins Definition of Insanity-- our biggest process is not having a process! The approach must be entirely different every time for the product to be completely different each time.