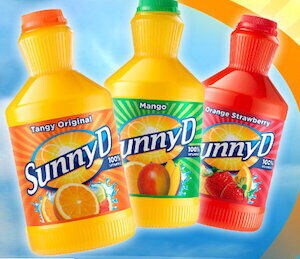 Sunny Delight as a beverage was established by two friends named Howard and Phil who had a dream to make a great tasting tangy beverage that didn't come with the pulp and tart of regular orange juice. The product prides itself on being a fruit-based beverage packed with the essential vitamins and minerals that are vital for health and wellness, while also tasting great. The company has gained the emotional connection that its consumers portray, boasting that "SunnyD was reverse engineered from the sun." Michael Burton, the CMO of Sunny Delight Beverages Co. has been with the company for almost eight years. Michael is in charge of the marketing for the whole company -- all marketing efforts go through him. Initially, he was brought onto launch a small initiative, but as the years went on, the hard work earned Michael more and more responsibility, eventually leading him to the role he is in today. Michael Burton has been in marketing for an impressive 17 years, and has a wide variety of background experience in different industries.

4 questions with Michael…

1. What makes an innovative culture? How do you create a culture of innovation?

There are a couple of things you need in order to do this. First off, you need a little bit of rigor and process involved, but also be nimble enough to move quickly and get things done. Second, there must also be some processes involved when thinking and generating new ideas. You must have flexibility to move things around as needed.

2. What is the biggest challenge when you face when innovating?

The beverage industry in general is a difficult place to innovate. You need to look for unmet consumer needs and the insights that go along with this. The beverage category as an entrepreneurial space allows for so many different brands to be out there. You have your heavy hitters that are renowned, but you also have the smaller guys that are just starting up. What is really important is finding the insight.

3. How do you find inspiration or ideas from adjacent industries? Or do you focus only on your category?

We try to look more broadly at different industries. Here, we are more thinly staffed and we don't have as much time as we would like to broadly look. That being said, yes, we do look at different things within different industries. A lot of what is in the beverage industry is so innovative, just being or having good scientists can go a long way.

4. Looking into the future, how is SunnyD going to be a leader in innovation?

I think we have to look at a couple of different things. We have a brand that people have an emotional connection with and need to get people to think of what they associate our brand with. Marketing will solidify the core values of our company. We also need to be aware of what trends we want to leverage… what trends will work with our brand? Health and wellness is a huge trend right now. How do we do this with our product in a more wholesome way? We are looking for ways to implement this, but first we need to establish our foundation as a company. We need to consider extensions we can think about that we have not exploited in the past.