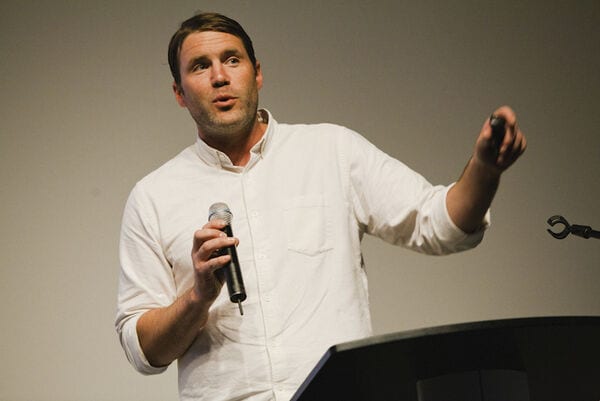 Based out of Portland, Oregon, Stumptown originated with its flagship store in 1999. Since then, the company has started to take off by opening many cafes across the United States. When talking about its brand, Stumptown has gained a huge consumer following that people can connect with on an emotional level. Whether it be roasting, distributing, or just the classic brewing, Stumptown prides itself on being a premium roast of coffee beans that its consumers have come to be emotionally connected with. Matt Lounsbury, Vice President of Stumptown Coffee Roasters, over sees both the front and back end of the business for the past 12 years. He has managed to help them grow from just a few shops, up to massive roasting markets all over the country. He has done this with the help of an amazing group of people, who have all been focused for overseeing and supporting the growth of the brand.

3 questions with Matt…

1. What makes an innovative culture? How do you create a culture of innovation?

Creating a culture of innovation is a big one for us. When you go into the world of business, culture is really important. There is a whole side of things that we like to do and that is hiring people who, essentially, you would want to hang out with…have a beer with. Having these people is good for expanding our business, and how to nourish and cultivate this culture. Our biggest focus is to keep it real as we get larger and larger. We like to think of ourselves as having a sense of humor. We want to hire people who are passionate, people who are interesting, and people who lead interesting lives. There is no manual on how to make people a good service provider to our consumers, so we look to hire people who are naturally hard-wired like this.

2. What is the biggest challenge you face when innovating?

I think for us, because we do things so uniquely, is that we're only playing in the space with our suppliers and everyone as a chain, so we know how the coffee and its quality are handled. I think innovating within a fear of releasing a new product is a lot of work. It takes a lot to make sure nothing goes wrong through the whole chain or how it maintains the brand and quality we pride ourselves on. We have proven to be successful because we are growing, and at a fast pace. We could easily step on the gas, but fostering our brand and its quality to our consumers is the most important thing to us.

3. Looking to the future, how is Stumptown Coffee Roasters going to be a leader in innovation?

We are seeing a lot of the trends with seasonal food like coffee is that it tends to follow a framework in large cities. 5 years ago, these major cities never had independent cafes, but now, there are tons. This relies on the current way cafes are now in this day and age.

Secondly there are two parts: On the cold brew side, it has been a lot of fun with how quickly it's picking up. Now it is a full blown category… ready to drink coffee is the biggest growing non-alcoholic drink growth out of all the categories (energy drinks, soft drinks, sport drinks, etc.). It has been really fun trying all these new things, but also doing it with a solid foothold in the quality we pride ourselves on. Seeing the smaller, independent brands taking over the shelves is fascinating. On the whole bean side, it's really just getting started. We are now at a point where there is a new café popping up on every corner. People develop an expectation for premium products. We are fostering a strong emotional connections with our consumers. People are being incentivized into moving to certain neighborhoods, seeking these hub-like coffee shops.
References: linkedin and stumptowncoffee