Leading Design with Creative Freedom
Mark Zeller, Sr. VP Global Brands Creative, Fisher-Price
Related Trend Reports
Art & Design
,
Babies
,
Business
,
Celeb Products
,
Celebs
,
Computers
,
Design
,
Gadgets
,
Home
,
Leaders
,
Life
,
Life Stages
,
Lifestyle
,
Luxury
,
Mobile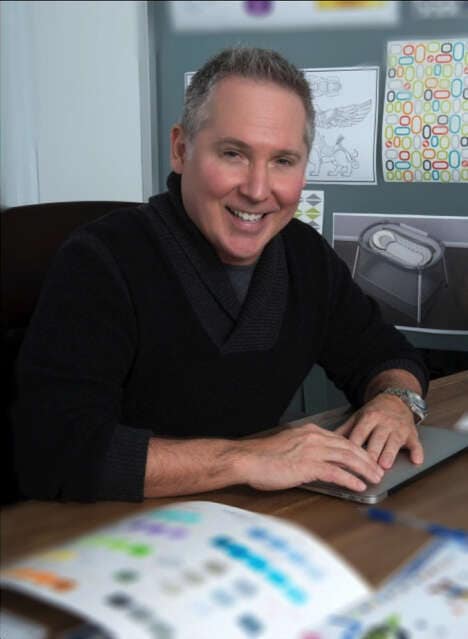 Mark Zeller – the Senior Vice President of Global Brands Creative at Fisher-Price – has a lot of experience leading product design, making him a role model for innovation. With more than 15 years of experience teaching Toy Design at FIT and 18 years working at Mattel, he has explored many design disciplines through toys from architect to fashion. Since childhood, Mark has loved drawing and that inherent creativity is still with him today as he leads the design of a variety of Fisher-Price products. Mark believes what makes a design spectacular is its ability to be relevant and exciting.
Four Questions with Mark
1. How does your team generate new ideas?

We like to identify trends by looking at open spaces for product development. More routinely, I'll get some of our designers from our New York City and East Aurora offices together and go looking around for ideas in the streets of NYC, at a show in Europe, a museum exhibit or an inventor trip to Israel. Everything that's out there in the world can inspire you; you just have to be observant and getting out of the work setting on an expedition-like quest will stir a lot of new thinking.. Designers are born with a curious eye but they need stimuli inside their work week as well as out and I want to make that commitment to them that they'll have that. We also host brainstorming and mentoring sessions with fellow designers during trade events like the New York Toy Fair because there are so many great minds in one spot.
2. What is the biggest challenge you face when innovating?

Keeping an unconstrained mind is definitely one of the biggest challenges. When you have to consider pricing, retailer's shelf space, and margin, it's challenging to look at an idea at its full potential.
My toy design students at FIT never worried about the cost of technology, or how a product was assembled and I took that observation to heart so I don't ever constrain myself. At Fisher-Price, I want to push my team to put those factors aside and have a true, unbridled upfront exploration. I encourage our designers to hang black and white concept drawings on the walls so we can see all the possibilities of an idea -- Show me the messy and the interesting parts and pieces and let something special come together.
3. Has there ever been an instance where another industry has influenced an innovation at your company?
Of course. Our toys and baby gear are influenced by fashion, retail experiences, other children's products, and consumer electronics. For example we go to CES every year to look at electronics from both aesthetic and functional aspects. We look at how technology can help make parents' lives easier and how these products are being delivered in the consumer market.
4. Looking to the future, how is Fisher-Price going to be a leader in innovation?
We're definitely tapping into all available resources. We're working with inventors to see what new ideas they can bring to the table. We're partnering with technology innovators, and learning how we can apply technology to children's products. And we're even looking to the power of the crowd using crowdsourcing initiatives because we know great ideas can come from our consumers – parents – who live and breathe play and development each and every day.