Mark Van Iterson, Head of Design, Heineken
Enjoy Responsibly Day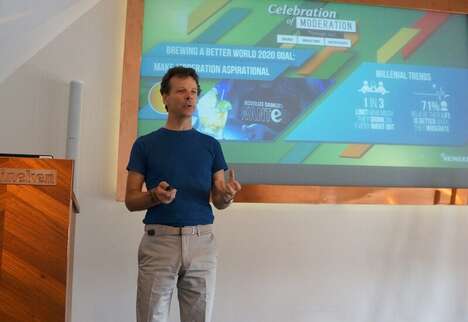 Mark van Iterson is an industrial design engineer by education. After 13 years working in design and brand consultancy, Mark joined Heineken in 2005. He is responsible for all design and concept development for the Heineken brand worldwide. In the rather traditional beer category, Heineken sets itself apart by its progressive and innovative drive. Design and innovation are key to enhance and elevate the beer experience, build brand equity, create future business concepts, and engage and excite consumers.
Mark was responsible for all designs around the global 'open your world' campaigns, the iconic Heineken Star bottle and
The SUB
. He was also a key part of more experimental activations like the crowd-sourced Concept-Club and
igNite bottle
at Milan and London Design Week.
We chatted with Mark about Heineken's most recent feel-good campaign and where he gets his inspiration from.
1) Tell me a bit about the event that happened last week.
Friday September 16, 2016, was our annual Enjoy Responsibly Day where we promote the consumption of Heineken responsibly all around the world – this year in 60+ countries. Making responsible drinking cool is an ongoing effort year-round but we thought it would be cool to use this day to start a brainstorm session; this session's purpose was to ''Design a Night to Remember'' and come up with new fresh ideas and directions to promote responsible consumption. The premise being – if millennials are drinking less in order to get more from their experiences – how is that shaping our cities and our nightlife culture? It was a completely creative day, where we had 20 Heineken employees from different parts of the organization: technology, supply, legal, communication, design, innovation, and more, to ensure cross pollination.
We started the day at Club Air, one of the famous nightclubs in Amsterdam for a morning rave. We had a DJ spinning, there was dancing, and it was fun to experience what it is like to be on the dancefloor at 10 in the morning with just a coffee or a non-alcoholic malt drink. Our purpose was to focus on a variety of different things and activities to inspire us. Later, we had a professor in urban city planning, Amsterdam's 'Night Mayor' and innovation colleagues speak to us —and the point was to gain inspiration from a number of different directions to create new ideas. We closed off the day with a short presentation and employees from the entire Amsterdam Office voted on the best ideas our groups had created throughout the day.
We did a similar initiative last year, it was called Talent Lab: Moderation and we were able to bring the winning concept to life, and we just launched it this year with consumers -it is a tap facing the consumer that allows them to pour their own water on a night out – called 'This One is On Us'. These sessions are great because we all have fresh perspectives and get to think outside of the box to help the Heineken brand innovate.
2) How do you gain your day-to-day inspiration?
We have a separate innovation team for the Heineken brand that helps with the core of our added value. We are positioned as progressive and forward-looking. But to answer your question, personally, I don't have a simple answer. In short, everything inspires me. We have trend watchers and presentations from agencies that gather what is happening around the world, but for me, the real inspiration is daily life. From going out to a bar and seeing how people drink a beer to everything in shopping, fashion, film; in everything are ideas that inspire you. In addition, different people from different disciplines and cultures are a real wealth of inspiration. The same goes with traveling. At the end of the day, the problem isn't inspiration for new ideas because there are so many out there—it is how you make sense of them.