Feedback-Driven Innovation
Mark Rose, VP of Design, Engineering & Maintenance, Busch Gardens
Related Trend Reports
Architecture
,
Art & Design
,
Babies
,
Boomers
,
Design
,
Games
,
Hip Hotels
,
Interactive
,
Life Stages
,
Marketing
,
Pop Culture
,
Retail
,
Science
,
Tech
,
Toys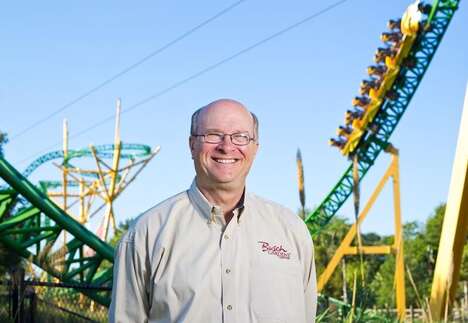 Mark Rose is the VP of Design, Engineering and Maintenance at Busch Gardens, and has been working at the park for 32 years now. Mark manages everything from restaurants and gift shops.
Busch Gardens has two amusement parks located in Tampa, Florida and one in Williamsburg, Virginia. Mark Rose and his team work at Busch Gardens Tampa, which includes attractions such as Rhino Rally, Montu, Kumba, Scorpion and Cheetah Hunt. Mark and his team will continue to innovate and create some of the most amazing rides and attractions for their guests for years to come.
5 Questions with Mark Rose
1. Do you have specific rituals for re-setting your team to be creative?
We take walks down the paths, and brainstorm all different ideas, while looking around the park. We also take different images, and ideas from the internet (like color blocks) and post them on the walls in the offices. Then we have discussions about these images to spark new ideas.
We'll also have experts that come in and give us their opinions and ideas. Say we were coming out with a new chimpanzee exhibition -- then we would discuss how we could create the biggest, best exhibition for our guests, with the help of the expert.
2. Has there ever been an instance where another industry has influenced an innovation at your company?
There was actually a roller coaster inspired by Star Wars [Episode VI: Return of the Jedi.] It was a scene where there was a chase with Ewoks -- when they stole the speeders -- hovering close to the ground. We thought of the ride going through different habitats like trenches, forests and raging rivers. Then I was thinking of having a roller coaster that would hover close to ground, like the speeders did. That idea then filtered down to become the Cheetah Hunt coaster we built in 2011.

3. How do you identify trends? What resources does your team use to spot trends and consumer insights?
At Tampa park we have three important factors: the rides, the animals and the shows. Once we come out with a thrill ride, like Falcon's Fury, then we'll come out with a show next, because we're trying to keep a balance between the three legs of the park.
4. How do you ensure you're getting trends/insights information that your competitors aren't getting?
We benchmark other parks, and look at different ideas on the internet too. But, we're also members of trade shows and can look at where trends are going from there.
As far as our competitors go, everyone has their strengths, what they are best at. Disney is known for magic and their princesses, Universal is known for movies, but we take pride in the fact that everything we do is real. We create rides, and attractions that are unbelievably real, and amaze our guests.
5. What makes an innovative culture? How do you create a culture of innovation?
We are constantly getting feedback from the customers everyday. We can see the park, and people having fun, right outside of our offices. We can ask the guests: "What was your favorite ride?" or "What did you think of the show?" It's this feedback that allows us to innovate, and create a park the guests are going to enjoy and return to.