Utilizing Storytelling in Business (INTERVIEW)
Lisa Huck, Consumer Insights Leader, eBay
Related Trend Reports
Architecture
,
Business
,
Fashion
,
Internet
,
Marketing
,
New Ventures
,
Pop Culture
,
Retail
,
Social Business
,
Social Media
,
Tech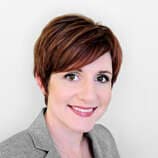 In the world of giant online retailers, one company stands above the rest with their quality, standard and innovation. Beginning in 1995, eBay has been the place to shop when you are looking for anything from cars, clothes or pieces of tech equipment. Lisa Huck, a Consumer Insights Leader at eBay, oversees market research for eBay's core vertical businesses that span Fashion, Home & Garden, Motors, and Electronics as well as new, emerging verticals. Helping eBay stay inspired and on top of what's new and noteworthy is a tough job, but with customer empathy and eloquent storytelling, Lisa has been an integral member of the team for the past two years.
5 Questions with Lisa Huck
1. How do you identify trends? What resources does your team use to spot trends and consumer insights?
Personally, I look at trends in terms of macro, micro, and tech influences; exploring global and regional happenings first, and then focusing on shifts in commerce and technology, which eBay is either driving or leveraging. Keeping close to our customers is essential, but it also helps to tap into other influencer groups I call "interpreters." These are external groups with similar audiences and goals who can help read the micro-trends impacting our lives. They are typically innovation experts, academia, associations, and specialists (anthropologists, trend spotters, etc.) Also, staying close with other corporate innovators, that aren't direct competitors, helps surface relevant trends to build meaningful customer stories.
2. How does your team generate new ideas?
Our global Customer Insights teams are particularly well harmonized. We meet monthly via video conference, and at least twice a year in-person for structured, team collaboration events to generate new ideas and help solve specific business problems. We also share research roadmaps, learnings, and recommendations via a global insights portal.
3. Has there ever been an instance where another industry has influenced the way you search for trends and insights?
When it comes to brand research, our techniques generally start broad and become more focused, revealing more context as they progress. The exercises that we use for story building (imagery and word associations and projective techniques,) are common in the fields of psychology and neuroscience. They help us discern what the brand elements we're assessing communicate to our key audiences about eBay's desired brand image and personality.
4. What makes an innovative culture? How do you create a culture of innovation?
I believe that an innovation team can be very powerful and effective, given the right conditions. It's a team that operates somewhat autonomously from the core business, with a lot of freedom to sail forward and experiment. The group has liberty to incubate ideas that are not only iterative, but truly disruptive. Our innovation team at eBay is championed by Steve Yankovich, our VP of Innovation and New Venture, who was recently named one of Fast Company's "most productive people." Steve has helped eBay become an e-commerce leader and will help take eBay to the next level.
5. Looking to the future, how will eBay continue to be a leader in research and innovation?
Our technology and e-commerce investments are enabling us to use Big Data to revolutionize the shopping experience for buyers and sellers around the globe. For example, with our purchase of "Hunch," we're using taste-based mapping algorithms to deliver more personalized and differentiated experiences that customers love. Aside from sophisticated algorithms, eBay is also changing the e-commerce landscape. In the area of same-day delivery, we're answering the call for the "shop and drop-off," not just in the same day, but in about an hour! This is also a great example of how we translate important customer insights ("instant gratification," in this case) into actionable business results.