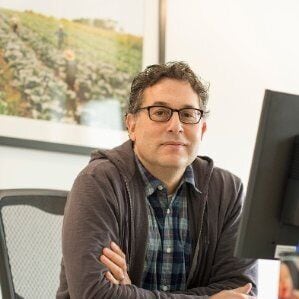 The Organic Valley brand is a part of CROPP Cooperative that will generate over $1 billion in revenue in 2016. The Organic Valley branded business is responsible for more than half of this revenue and is complemented by private label and ingredient sales. Ingredient suppliers include Danone's Stonyfield Farms and General Mill's Annie's Natural. Lewis joined Organic Valley about 4 years ago where he leads the marketing team. He leads over 65 people on his team that focuses on creative, events, sponsorships, brand management, consumer relations, and innovation. They support a mission of supporting small family farmers through organic food and farming. Organic Valley is partnered with about 1800 farmers. 88% of the business is dairy, but it also does meat and produce. Lewis used to work in the carbonated beverage and ready to drink industry, but wanted to use his work life to create products that are healthier for people. Lewis got off the corporate path to do something that was more personally fulfilling. "It is good for me".

4 questions with Lewis…

1. What makes an innovative culture? How do you create a culture of innovation?

One of the things we've been doing is defining innovation for the organization because it's a word that is filled with a lot of incorrect perceptions, or none at all. Creating this culture requires us to educate that innovation isn't just a new product... it's challenging the ways we have done things before and getting us out of our comfort zone. Also, a culture where failure is not only accepted, but praised because we can't have innovation without failure. With regards to changing our culture, Organic Valley was a huge innovator when it was first created. They were innovating when they didn't even know what innovation was… they were just following their hearts. We started out with organic food but moved into Ultra High Temperature Pasteurization that provides a longer shelf life. There is a lot of innovation in our history, but as we have grown, we have focused more on meeting this growth and trying to deal with this growth instead of focusing on innovation. Organic products are becoming more widely accepted, and it is just beginning… organic products are in their infancy stage. There is a lot of opportunity for us as one of the biggest organic suppliers.

2. What is the biggest challenge you face when innovating?

One of the biggest challenges we face is figuring out what is the right structure what level of resources are needed to allow innovation to thrive I am lucky to be part of an organization that loves to challenge norms. We are changing the attitudes and opinions that will be necessary in order to thrive and survive.

3. How do you find inspiration or ideas from adjacent industries? Or do you focus only on your category?

We focus on a lot of adjacent industries. We start a lot of meetings by asking people to bring in something from anywhere that they think is innovative. Someone could bring in an apple watch, or even the shave club for men. We are not limited to food at all… we are trying to show each other what innovation is to us. We are constantly looking outside our world to craft this definition of what innovation can be. For consumer relations, we try and tell them that innovation can be anything and not just product innovation. Bringing in examples from everywhere can broaden everyone's imagination.

4. Looking to the future, how is Organic Valley going to be a leader in innovation?

We are strategically planning and innovation is one of the core pillars. To think of innovation around the whole organization and not just new product development. We are investing more heavily in new product innovation and continually building on this pipeline of new products we are launching. We are also re-examining how much we invest in the launching of these new products. We are challenging each department to innovate in their own space… having each department as a cooperative over a longer term will force everyone to have a discussion of what they're doing and try and get everyone out of their comfort zone. The one challenge as an industry that's going through some changes is that we are now competing with the larger conglomerates like the Coca-Colas and General Mills'. This requires us to be even more diligent about innovation and to concentrate on how to do it faster than them. We are always going to be independent which mean we must take more risks and have to be more creative to compete with these conglomerates.
References: linkedin and organicvalley.coop