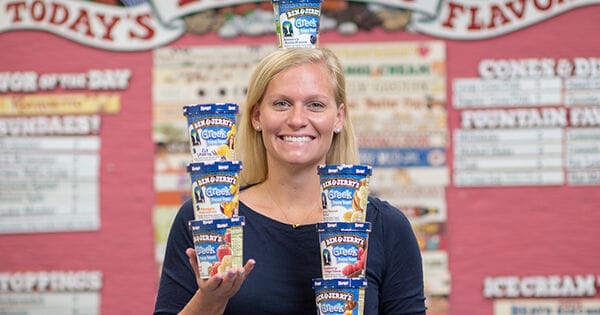 Kirsten Schimoler has been with Ben & Jerry's since August of 2009. She started her career with Unilever and originally worked on Bertolli and PF Chang's frozen meals. She eventually moved up to Vermont in 2009 and has been doing product development since she started with Ben & Jerry's. A lot of this development has been with the brand's renowned ice cream pints.

Schimoler tells the story behind the famous brownies in Ben & Jerry's 'Half Baked' ice cream pints and how they come from the Greyston bakery in New York, where the brand employs people who have had trouble in the past and may have trouble finding employment. Partnerships like this help to further Ben & Jerry's mission to not only provide a great tasting ice cream, but also to do social good along the way. Recently, the company has been focused on new product development and new platform innovations.

4 Questions with Kirsten…

1. How do you identify trends? What resources does your team use to spot trends and consumer insights at Ben & Jerry's?

We have a Research and Development team and also a Consumer Insights team. They do things in their own way, then we do ours with regards to looking at what products are out there and what is selling well. We use data, as well as experiential research. We look at consumer surveys which include a list of several hundred flavors to see what floats to the top. There is also the R&D side to see what's new and what's cool.

From my perspective, we subscribe to every print publication possible in the food and beverage realm. They have a finger on the pulse, and it's good to see the leaders of thought on what is cool and new. We also look at online platforms, blogs, website, menus, etc. Right now, Instagram is huge, so we follow these food blogs and foodies around the world and this has been a huge success for tracking what people are doing and what's trending. Being so well connected allows me to see what people in LA, New York, Austin, London, etc. are doing, whether it's in a shop, restaurant or a food truck... I can see new, innovative concepts.

Another thing we do is actually eat and drink the new foods. Getting out to engage our senses is so valuable. Every time I'm in the grocery store, I will look down every aisle to see what's out there. I am a sucker for new products on the shelf! It is a very multi-faceted approach and there is never a day that goes by where we don't look for something new out there.

2. Do you have specific rituals for re-setting your team to be creative? How does your team generate new ideas?

If we all go to the grocery store, we will bring in new products and we will sit down and eat them all together. We will continue to talk about what we think about the products, flavors and its concept. We share recipes or meals we have recently eaten. This is our competitive intel. The number one thing is to actually taste these new innovations around food and beverages. The consumer insights team puts on a new product fair regarding frozen desserts that gets the whole office involved.

3. How do you find inspiration or ideas from adjacent industries? Or do you focus only on your category?

We definitely look at other industries -- it could be baked goods, it could be cocktails. This year we did a margarita sorbet ice cream and also some bourbon-based flavors. Craft beer is huge right now, so we are doing a Ben & Jerry's beer based ice cream and also a Ben & Jerry's craft beer! We have a lot of synergy with other industries for sure.

4. Looking to the future, how is Ben & Jerry's going to be a leader in innovation?

The non-dairy ice cream we will be producing is a huge step for us. We are the first mainstream ice cream brand to do this. There are non-dairy ice creams out there, but often it is made by a non-dairy milk company and not an ice cream company. Being able to leverage our ice cream expertise and apply it to a non-dairy product will bring us a whole new realm of consumers. There was actually a change.org petition for us to make a vegan ice cream product and we will deliver to those who asked. Vegans don't want animal products, but they came to us even though we are a dairy-based business.

This just proves that it's about more than just the ice cream, it's about the brand too. We look at ourselves as a socially driven company, as well as an ice cream company and that really resonates with consumers. We are socially driven, but also make great products. We have also seen great success with our line of Cores, so there are opportunities for both inside the pint, and outside the pint. The next five years for us will be really big if we can leverage our core equities to deliver new and novel products.
References: linkedin and benandjerrys