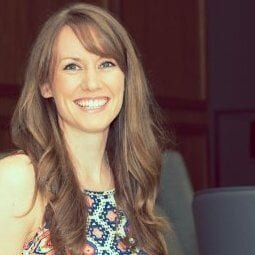 Accolade Promotion Group (APG) sources and designs promotional merchandise for some of the world's most well-known brands; developing solutions that create meaningful connections between their brand and target audience. APG is Canada's largest distributor of promotional products and is involved in a breadth of promotional activities, involving everything from simply logo'ing products, to building e-stores and designing full-scale brand executions.

As Senior Marketing Manager at APG, Jennifer Roney oversees and manages the marketing and merchandising teams and is involved with both APG home marketing (B2B) as well as customer marketing initiatives. Looking at and identifying emerging trends to position the future of APG is one of the cornerstones of Jennifer's job. For more information and a full list of services offered by APG please visit www.accoladepg.com/en/aboutus.

Q&A with Jennifer Roney:

What makes an innovative culture? How do you create a culture of innovation?
Innovation is the core of what we do: Listen. Innovate. Deliver.

In order to create a true culture of innovation, you have to commit to putting the necessary resources, structure and systems in place that will encourage and reward creative thinking on a regular basis. It's important to have leaders in place that actively train individuals to challenge the status quo and share new ideas. A company committed to a culture of innovation is one that is then willing to dedicate the time to assess the business case, implement the strategy, and assume the associated risks.

Cross-functional innovation teams, internal mentorship opportunities, and strategic partnerships outside of the industry all expose our team members to different types of thinking and help to sustain the innovative culture we have built at APG. It's vital to look at areas outside of your immediate focus for inspiration, and seek out different thinking.

At the heart of it, you have to get comfortable with the fact that innovation is not something you ever finish, it's an ongoing process that has no end point; you have to always be ready and pushing for change.

What is the biggest challenge you face when innovating?
We have to be able to develop new ideas for our customers on an ongoing basis, which means that the daily activities of every team member matters. It can be extremely difficult to sustain ongoing creative thinking when you are being pressed to come up with new ideas every day. It's why our culture and processes are so important.

One way we try to overcome this issue is by encouraging our team members to make use of "refreshers." Whether it's stepping away from your desk for a walk, looking outside of your regular resources for inspiration, or partnering up with a colleague to brainstorm, it's important to switch it up, try something different, and keep your mind fresh.

How do you find inspiration or ideas from adjacent industries? Or do you focus only on your category?
We source products and ideas across all industries to incorporate outside insights into our daily work. We have been inspired by a number of businesses and ideas outside of our immediate industry. We often work with external leading industry providers, designers and product development teams in everything from retail to fashion to food. For example, having identified the need for retail-driven sustainable merchandise, we partnered with our friends at Redwood x preloved to be the first distributor to bring their upcycled, made-in-Canada clothing to the corporate market.

Looking to the future, how is APG going to be a leader in innovation?
We will continue to challenge ourselves to never be complacent. One of the worst things you can hear in business is, "... because that's the way we've always done things." You have to constantly be looking to change and be careful not to rest on your past successes.

APG has very recently been acquired by Staples, Inc., which will build on Staples' position as the largest distributor of promotional products in North America. So it's a very exciting time for APG as we will be able to explore all sorts of new partnerships moving forward.
References: accoladepg