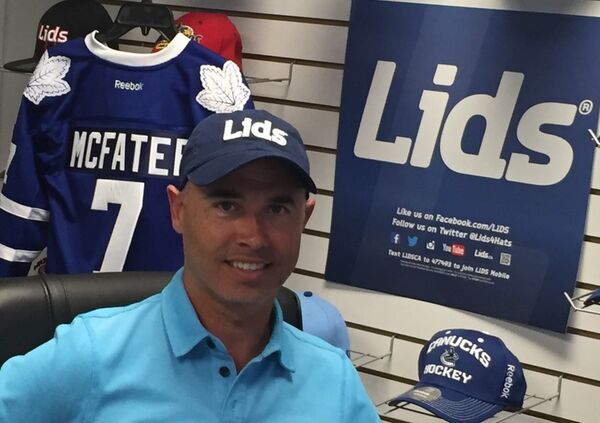 Lids Sports Group entered the Canadian market in 2005 with the acquisition of Cap Connection (Head Quarters) that had approximately 14 retail headwear stores throughout the country. Jeff McFater was brought on as the Director of Canadian Operations to grow the concept north of the border. Since then, the company has averaged 10 new stores per year. As the store count grew in Canada along with infrastructure and concept diversity, Jeff's position evolved to VP of Lids Sports Group Canada. He is now responsible for overseeing all operations in Canada across all concepts; Real Estate, Buying, Marketing, Operations, etc.

With the acquisition of Jersey City last year, Lids Sports Group now operates 156 stores in Canada which break down into 4 different concepts. There are 106 Lids Headwear stores, 50 Fan Stores, the retail for the Edmonton Oilers Hockey Club and Lids is the provider for CFLShop.ca.

6 questions with Jeff:

1. What makes an innovative culture? How do you create a culture of innovation at Lids?

I think a lot of people define innovation as creativity, but you can be creative without being innovative. Innovation means having the guts to pursue an idea, regardless of trends. Innovation means seeing beyond the current landscape and almost dictating the future one. We all know the Steve Jobs' quote: "How does somebody know what they want if they haven't even seen it?" That's true innovation! At Lids, I'd say we are inspired by trends, by street culture and fashion design – but we go with our gut. We know our customers so well and that's what inspires innovation.

2. Do you have any specific rituals for re-setting your team to be creative? How does your team generate new ideas?

Our team consists of young diverse individuals who inform our ideas, trends and inspiration to help us evolve and progress to be not only a great retailer but also a company of choice with enormous career growth potential. I don't know if it's setting them up to be creative, it's more about employing people that live the life that we are selling. This keeps us in tune with the culture and allows us to be a huge influence with the trends. And generally, if you stop talking long enough to listen, people will bring forward great ideas.

3. What is the biggest challenge you face when innovating?

Sometimes size can be your Achilles heel. We have so many new ideas, the challenge is identifying those that will be of greatest benefit for both the business and the customer. An idea may be phenomenal, but if it's not in tune with our core values and our customers' interests, you have to be smart enough to let it go and refocus. In a company of this size, innovation is a huge expense. So we look for ideas that have longevity to avoid chasing fads that can run their course before creating any real value for the company.

4. How do you find ideas from adjacent industries? Or do you focus mostly on your category?

We do look at companies outside of our category to see what other retailers are doing with regard to displays or maybe in-store experience. Picking up on some of those retail innovations can be useful, but we're careful not to look at our competitors too much. When you look at the competition, you're psychologically positioning yourself as the underdog. Instead, we focus on our strengths, our core values, and what makes us come alive. We've found that internal focus usually propels the most success.

5. How do you identify and utilize consumer trends?

Trends maybe don't dictate what we produce, but they absolutely inspire us and remind us to push our own boundaries. We also have within our four walls some of the people that start and set those trends, and that allows us to be on the cutting edge – authentically.

6. Looking to the future, how is Lids Canada going to be a leader in innovation?

To be a leader you really need to be focused on your growth. You need to listen to employees and also listen to your consumer. We look for new ways to excite our consumer to shop with us and at the same time motivate our employees to feel a part of something great. For example, we partner with all the leagues and vendors to enhance our shopping experience from a product and incentive perspective. We also provide a unique and evolving customization program within our stores for our consumer so they can personalize their product. We offer a great loyalty rewards program that gets updated and modified based on customer feedback. The end goal is to make the experience fresh and one to remember. That's what makes people come back. That's what feeds the culture.