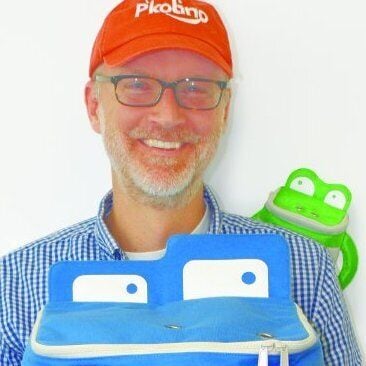 J.B. Schneider Co-founder of P'kolino has an insatiable curiosity. It's helped him wear many hats throughout his career but has been especially important at P'kolino. As one of the worlds most unique toy brands, P'kolino has been an innovator in everything kids from tidy-up time to nap-time. With the children's market evolving so rapidly it's a wonder anyone can keep up, let alone add a quirky and unique spin on anything it touches. For J.B. his approach to innovation is simple: Surround yourself with great people, be genuine and seek out new information, voraciously.

5 Questions with J.B. Schneider

What makes an innovative culture? How do you create a culture of innovation?

There's no magic formula. Culture is about people and fortunately when you start a business you have a choice of who you can hire to fill those positions. My experience is, in the creative industry, it's good to have people that are innately curious. I think innovation comes from information. The more you know, the more information you're gathering, the more you come up with. I think curious people seek information. I like people who some might call quirky or odd. I also feel like you have to have an environment where people feel comfortable. It has to be genuine and it has to be honest. I think people are most comfortable in an environment where they understand what's going on and where they stand. But also, with a sense of humour built through it. If you're comfortable making a fool of yourself, you're comfortable sharing ideas.

Do you have specific rituals for re-setting your team to be creative? How does your team generate new ideas?

A lot of it has to be genuine. I've been to these places where they try to do these forced off-sites or parties but it just feels awkward. It has to be genuine from the beginning. When were stuck, we seek more information. That's what I do. Read more articles go to stores and walk the isles. Basically, observing and collecting information and figuring out what got you stuck.

How do you ensure you're getting trends/insights information that your competitors aren't getting?

There's no shortage of information. A company at a level like ours, I'm not sure I can do something that other companies my size can't do. I can't go out and sponsor primary research or spend more money then somebody else. I just have to be more creative in where I find my information and get more efficient at getting that information. I subscribe to newsletters, I read newspapers and I look through magazines. I'm on hyper alert all the time for new ideas and information.

Do you find inspiration from adjacent industries outside of your category?

Absolutely. There's a lot of good information available and a lot of new advancements in other industries. One of our big challenges is getting stuck in what we know about materials or manufacturing. So when you can look at adjacent industries you get a sampling of additional materials that are out there or figuring out how they could've made that and what that production process is and how that can change what you do to generate some new ideas. But, I think it's invaluable to pay attention to what is going on outside your core industry.

Looking to the future, how will P'kolino continue to be a leader in innovation?

We're going to continue to do what we do. We're going to continue to absorb and be curious and look for more and more new and nimble ideas. I once had a creative director tell me ideas are a dime a dozen. At one point, I thought he may be full of himself. He was young and I really believed that ideas were the crux of everything. I've come to learn that isn't the case, ideas are a dime a dozen. Ideas are easy, the real challenge is bringing that idea to life. The persistence you need to have to jump through all the hurdles to bring the product to market, not getting stuck with fine tuning it, not getting distracted by new ideas which are always coming - is all critical. That balance between the inspiration and the persistence to get it to market is a key part to innovation I think people overlook.