Innovating with a Quirky Personality
Jeff Zwally, VP of Research and Development, Jack in the Box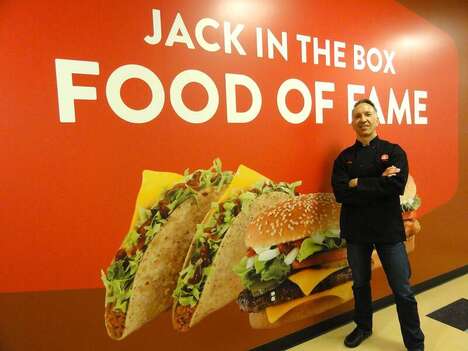 With delicious, and ample food choices, a quirky personality and hilarious commercials, there is no fast food chain quite like Jack in the Box. This company sells everything from burgers to egg rolls, and you can even pick up the perfect meal after a late night on the town. Customers love Jack in the Box's approach to food, and atmosphere, and the company's passion is apparent in everything they do. Jeff Zwally, VP of Research and Development, is responsible for the new product development pipeline. Jeff and his team have managed to continue to come up with exciting new menu innovations that keep customers satisfied, and wanting more.
4 Questions with Jeff Zwally
1. How does your team generate new ideas?
Our ideas can come from anywhere. My Research and Development team spends a lot of time with our suppliers, operators, marketing team and corporate chefs. Spending time with these people helps to spark new ideas. We also do Trend Tours where we go to fine dining, and casual restaurants to see what's on their menu and what's new and exciting. Generating the ideas is often the easy part. All of these ideas need to be a good fit with our brand. About 80% of what we come up with is consumer driven, and the other 20% are ideas the consumers may not even know they want. We have an 'Innovation Wall' where corporate based employees can submit their ideas to the marketing and research teams.
2. What is the biggest challenge you face when innovating?
The biggest challenge we face is time. The faster we can ideate and put into the market, the better. As a franchisor, the more we can put out the better. It's a competitive market because we have a lot of other companies in our sector. Most of us have access to the same trend forecasting, so it becomes a race to the finish line. Sometimes it's good to be first, but it can also be good to be second. When you come second, the public has already been introduced to the idea. However, there's a fine line because you definitely don't want to be too late with releasing the idea. Since we are more of a regional chain, we are much more nimble than the larger national chains, which allows us to get trends and innovative new products to market faster.
3. What makes an innovative culture? How do you create a culture of innovation?
Here at Jack in the Box, our Innovation Center houses all those functions that drive the new product pipeline. The fact that it's called the 'Innovation' center represents how important creativity and food trends are to the brand. One thing that is distinctive about us is that we have a very diverse, unique menu. At our stores, you can buy anything from burgers to tacos to egg rolls. As a brand, we are known in the industry for our constant product innovation. Jack in the Box was the first QSR restaurant chain to launch a breakfast sandwich, fruit smoothies and tacos. People have come to expect innovation out of us. It also helps that our entire management team is on board with innovating. Our CEO, Lenny Comma, has a saying, and it's "going bananas." This is basically our way of saying we need to think outside of the box. A culture of innovation starts with our senior management team. We always say that it's okay to fail as long as you're learning.
4. Looking to the future, how will Jack in the Box continue to be a leader in innovation?
We need to make sure that any new product we consider fits with who we are as brand, and that it represents our personality. Everyone is familiar with Jack, but it's his fun and quirky personality that we want to come through in our menu and restaurant atmosphere. One new addition that perfectly represents Jack in the Box is our 'Munchie Meals.' We noticed a need for late night, cheesy, indulgent, delicious food. We also connected these meals with an overall brand experience, including neon lights, club music and a change in employee uniform. We will continue to surprise our customers, but we will always stay true to who we are.