4 Innovative Retail Strategies That Go Beyond Traditional Brick & Mortar
Related Trend Reports
Architecture
,
Branding
,
Business
,
Design
,
Food
,
Lifestyle
,
Marketing
,
Mobile
,
New Ventures
,
Publicity Stunts
,
Retail
,
Tech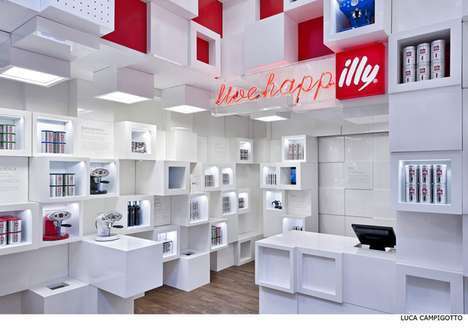 With technology changing the way consumers make purchases, the retail industry has been undergoing a transformation to allow for the convergence of both online and offline selling, creating a retail environment substantially different from the environment only a few years ago. The following innovative retail strategies allow for retailers to capture mobile consumers, decrease costs and take on less risk:
1)
Pop-Up Stores
. Pop-up shops provide considerable advantages for retailers, including lowered overhead costs from temporary real estate contracts and the ability to introduce new products to customers over short durations. Pop-up retailing also allows a business to leverage the benefits of a traditional brick-and-mortar establishment by giving customers a physical store environment. Trend Hunter has seen many established brands, such as Nike and Louis Vuitton, create pop-ups to provide their customers with a more focused shopping experience while decreasing costs associated with a longer-term retail strategy. On the other hand, new brands can benefit from pop-up retailing as they provide a lower-risk way to test a new product or service in the marketplace.
2)
Offering Virtual Selling in Physical Space
. Recently, Trend Hunter has seen a trend in physical stores adding a virtual element to the shopping experience. For example, the Korean home goods store
Homeplus
launched a virtual version of its store at a major subway station, allowing commuters to purchase goods on-the-go. To do so, they just had to scan the products' QR codes, with the selected items delivered later to the shopper's home. Similarly, the British retailer John Lewis launched a giant virtual window store that featured scannable product images, allowing customers to conveniently buy products as they pass by the display. By combining the virtual with the physical in this way, retailers are able to satiate a tech-savvy shopper's appetite for virtuality while simultaneously provide the familiar elements of a physical shopping experience.
3)
Shops on Wheels
. Like pop-up shops, mobile stores offer retailers with convenience, portability and lowered risk and costs. Traveling boutiques are still relatively new on the landscape as well, meaning that consumers are more likely to become intrigued and stop to shop. Examples of traveling stores include the
StyleLiner
, a fashion boutique on wheels that offers limited edition fashion goods and accessories. Hitch Couture is another traveling fashion boutique that provides high-fashion products as well as personalized shopping, private parties and photo shoots.
4)
Bringing Online Offline
. Although online shopping has increased significantly in popularity over the last several years -- online consumers spent about $202 billion in 2011 -- some retailers are recognizing that there are product categories that are better sold via traditional physical stores. For example, both eBay and Amazon have launched physical stores to better display their offerings. In the case of Amazon, which opened a store in its homebase of Seattle, the physical retail location enables customers to explore Amazon's brand of electronics, such as its Kindle eReader tablets. By providing customers with a hands-on experience, Amazon is better able to capture a market (those less inclined to buy things online) that might go to a place like Best Buy to purchase their gadgets.
For more innovative retail strategies and creative ways brands are venturing out of the traditional brick and mortar sphere, download Trend Hunter's Retail Trend Report and access Trend Hunter PRO for trends like
Pop-Uptailing
and
Modular Retail
.