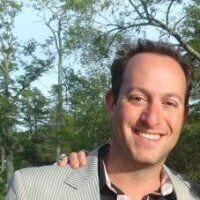 Lion acts as the largest CPG Company in the Australian and New Zealand regions and only continues to expand. It holds a massive variety of brands that range from alcohol, all the way to milk products. The iconic company looks to continue its success down under by staying ahead of the competition through innovation and the ability to stay agile, considering its size.

Ian Jankelowitz has been with Lion for two years now and has hosted a variety of roles, starting off as a brand manager for the iced coffee division of Lion. Ian has now transitioned into a leadership role on the sales and business development side of the company. Although Ian comes from a non-traditional background, that being music, he eventually went back and achieved his MBA. After being away from Australia for 12 years in the USA, he decided to go back home where he would demonstrate his efforts and hard work to get him to where he is today.

4 Questions with Ian…

1. What makes an innovative culture? How do you create a culture of innovation?

I think one of the keys to creating this culture of innovation is establishing trust amongst the people working there. If people feel safe to share and explore ideas together without a fear of being rejected, then innovation can thrive. Another important factor is if these ideas can be trialed and tested, with the understanding that not all of them will be successful. Not all innovations are designed to work, given the nature of the business. That being said, again, you must have an environment where people don't fear to speak up and understand that failure may ensue prior to a product reaching the market.

2. What is the biggest challenge you face when innovating?

From a business perspective, it is understanding that innovation alone is not going to fuel your growth. It certainly has a role to play with regards to attracting consumers, but it is not critical for the core of the business. Another thing is trying to understand the difference between innovation and renovation -- is the brand in need of a new product all together, or just a renewed look on an existing package? It's key to remember that innovation isn't the silver bullet. Often innovation doesn't go as planned, and you need to have time and flexibility. This is to make sure you don't set your business up for failure. The last thing to note here is the nature of working with innovation. Again, not everything is going to work… when you come up against internal/external barriers, you must have the resilience to work through those challenges.

3. How do you find inspiration or ideas from adjacent industries? Or do you focus only on your category?

Trust and the ability to be curious in what is happening in other parts of the world will certainly drive innovation. So yes, 100% we look at adjacent industries and demographics. Having insights into these other industries and having the creativity to apply it to your own world is crucial for long-term success.

4. Looking to the future, how is Lion going to be a leader in innovation?

I think that Lion is on a journey when it comes to innovation. Recently innovation has joined the brand teams, rather than just a standalone department. I think rejoining the brand teams is fairly important as it ensures alignment on the combination of NPD and a focus on the core to achieve brand and category growth.

Lion will continue being a leader by leveraging innovation to drive category growth via addressing key barriers to consumption. As the levels of penetration vary so significantly across the categories, we need to be agile enough in our approach while remaining single-minded that the role of innovation is to drive category growth. Having a really clear understanding of what is feeding this growth and how innovation address this will keep us at the forefront.