How the Net Accelerates Fashion Innovation (INTERVIEW)
Jill Guenza, VP of Women's Design at Levis
Related Trend Reports
Art & Design
,
Bizarre
,
Cosmetics
,
Design
,
Health
,
Hip Fashion
,
Home
,
Life
,
Media
,
Photography
,
Pop Culture
,
Romance
,
Special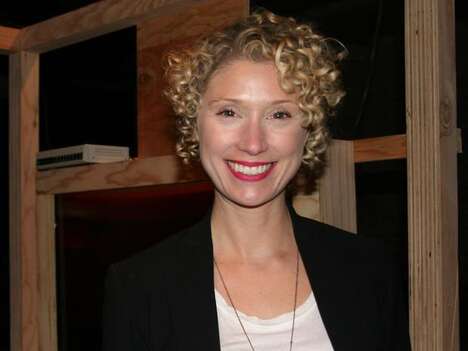 Even before Jill Guenza started working at Levi Strauss, she used to go home every night and sew a new garment for herself. The hobby turned into a profession, and over a decade later, Jill is now the VP of Women's Design at Levis. Working in San Francisco, Jill uses the favorable climate to her advantage by orchestrating outdoor retreats to reset her team's creativity. She says having the time to explore innovations is the resource that best fosters an innovative company culture.
5 Questions with Jill Guenza
1. How do you motivate people to come up with good ideas?
The thing people find most motivational is knowing they have a voice; it's going to get heard, and their ideas are going to translate into something they can own and turn into a product, eventually. Not everything turns into a product, but giving people the freedom and runway to come up with whatever crazy idea they can come up with and turn into something is key. It's crucial to give people a forum and a context to show them how their ideas can come to life. It's something we rarely talk about in corporate culture, but people want credit for their ideas. As a manager, it's all about giving people credit and making sure everyone knows where the ideas are coming from. We need to expose everyone to other great ideas, and let them know we value those great ideas.
Also, giving people the tools and resources to play and experiment is important. If they feel there are too many handcuffs and not enough resources to play with, it's hard to get motivated. If the company values innovation, they are going to invest and make people feel like they are in an incubator.
2. Do you have specific rituals for re-setting your team to be creative?

If it's that hard, then we're starting from the wrong place. I try to go back and reset and ask what is the purpose of what we're trying to do? How can we come at it from a different angle?
As far as specific rituals, it's good to take a step back, walk away and then come back to what you're doing. We're lucky enough to live in San Francisco where it's beautiful outside, so we'll often go outside to get a change of scenery and try to approach the challenge again. It's like what meditation does for creativity; you have to stop thinking about the problem and let everything else dissolve. You have to stop thinking about it so much, and let it incubate in the back of your head. Soon enough, you come up with it.
3. What is the biggest obstacle you face when innovating?
Creating the time and space to dedicate to true innovation is a challenge. We have the resources, it's just [that] you can get caught up on this wheel of the market and calendar and those processes of designing, prototyping, re-looking with merchandising, etc. You can get caught on this wheel – and those tasks are all critical -- but how do you cut off time and space so people can innovate?
As anyone in a creative field can tell you, it's not something you can schedule. You have to create just the right conditions for those ideas to come to life. We are in the process of creating a better mechanism to do that.
4. How do you identify trends?
Before the Internet, you had to get all the right trend reports and presentations and stay up on it that way. The Internet has changed that completely. Magazines were the bible for everybody: not just for a feedback loop into the industry, but for the consumer as well. Now, all the street style blogs have completely changed how we do research and how the consumer learns about trends. We still meet with trend forecasters, but not as frequently as past years. A greater percentage of our input comes from getting out in the world. We invest in travel, and that means going out and experiencing what are in museums, cafes, etc and talking to people out in the world to get inspired. It's not just about shopping.
It's really important to get those [inputs,] but as a designer, we have to not just design into those insights, but to use that as a temperature. It's important to interpret these inputs and use them as a reference point but not a directive.
5. What makes an innovative culture?
You invest in the resources needed for innovation. Time is a resource, so making sure we all have time to work on innovation is important. Not just one team can be responsible for innovation and coming up with an idea and making it happen. There has to be synergy across cross-functional teams. It's about those relationships to make sure the product comes to life.
Once you have proven you are a leader in innovation, people inside the company get inspired. It becomes embedded in every single person in the company. Innovation is part of their responsibility, and everybody is held accountable.