Creating a Unique Franchise Model
Jack Crawford, President and CEO, Ground Round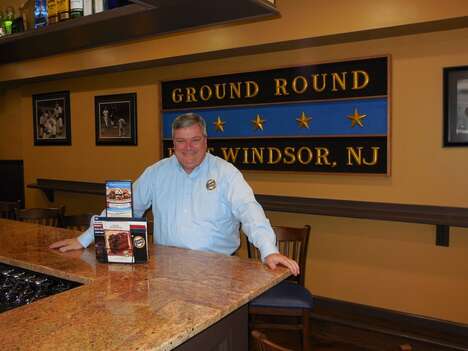 Building partnership relationships with its franchisees fuels growth, evolution and new ideas for Ground Round Grill & Bar. Sparking innovation through a unique franchise model, this company has continued to be a leader in its sector, as well as elevating old and outdated business methods. Jack Crawford, President and CEO, has been a leader in the company since its restructuring, and was instrumental in developing its unique franchise model whereby franchisees can not only own a franchise, but purchase a member share and stake in the brand. As a result of this model, they enjoy preferred fees, voting rights and direct input in the future direction and growth of the brand. Jack is not only the President, but also a past franchisee and a current Member Shareholder himself. By allowing all their franchisee's to be partners in the brand, Ground Round has truly changed our common perception of a franchise business.
3 Questions with Jack Crawford
1. How does your team generate new ideas?
Our ideas mostly come from the field. Some of our locations are menu test stores, and we meet with them by conference once a month. Anytime we have a new idea, it goes to them. When we conference with them, a lot of ideas come up since they see the results everyday. We also meet with our board on a quarterly basis. The board members are also franchisees, so they have great input with regards to directions we should take. Another great idea generator comes from our seasonal menus. We implement new seasonal menus three times a year, and they usually have 8-12 new items. These become a breeding ground for new menu options because we can be a bit more daring. We also have a contest where employees can submit recipes to our executive chef and win a cash prize. If selected, their item goes on our menu with the employee name and location, in order to recognize them for their great idea.
2. What is the biggest challenge you face when innovating?
The biggest challenge we face is the execution, and follow through with new ideas. Sometimes, when you are implementing something new, it takes a while to catch on. As an example, we had this problem with online ordering. From a tech aspect, it seems like it's essential to a business, so that is why we started to use it. We launched it a year ago, but at first it didn't have a high percentage of sales. Then we realized that it was probably a lack of customer awareness, so we started promoting it on Facebook as well as on our website. It's important to know that when you are implementing something new you need to see it through, and execute it properly.
3. Looking to the future, how will Ground Round continue to be a leader in innovation?
In the future, we will continue to have an open ear to the field. Growth is very important to us. We are growing at a rate of 4-5 stores a year, and we see that as a stable number. We are growing at a pace that we are comfortable with, and that makes sense for us as a business. We have a stronger voice and more resource dollars. Ground Round has been completely debt free for the last 4 years (which is a huge accomplishment in our industry), and we want to continue to attract the best franchise partners to keep on flourishing. Our franchise model is unique in that franchisees join our system and become real partners in our growth and direction, and they'll always have input in that process.