Understanding Consumer Viewing Habits
Greg DePalma, VP of Audience Insights at TiVo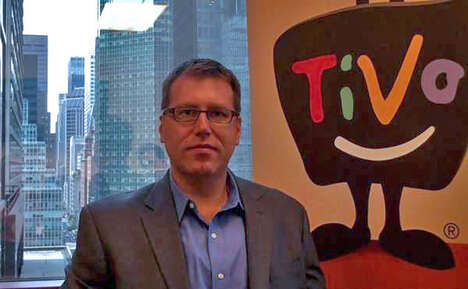 Greg DePalma is the Vice President of Audience Insights at TiVo and true media junkie. Greg has a keen understanding of today's television viewers. When he's not busy kicking back and listening to some classic guitar riffs or watching Conan on his iPad, Greg is busy uncovering what consumers watch, where they're watching it and why, and learning how to extract that data and turn it into insights and innovation at TiVo. We spoke with Greg about today's media industry and asked him a breadth of questions that touch on everything from innovation to team creativity.
5 Questions with Greg DePalma
1.How do you motivate your team to come up with good ideas?
There are two key things: one is an open environment, where an idea can come from anyone on the team or in the company.  Sometimes we uncover creative ideas from places you would least expect. Second is to "eat your own dog food."  An example would be everyone on my team owning an iPad for our new TiVo app. You want your team to experience what your customers experience, whether they are using an iPad, a TiVo or an app. You have to own your product and know it inside and out, hence I borrowed the saying "eat your own dog food" from a marketer at Microsoft in the 80s.
2. Do you have any specific rituals for re-setting your team to be more creative?
The ritual is, "Don't do something because you've done it in the past." If I ask a question and someone answers, "This is how we did it before," that's the wrong answer.  Don't walk into my office with a problem - walk in with a situation, and some ideas and how we can fix it.  Finally, there's dialogue; dialogue is crucial, and can save you time versus 10 emails back and forth. I'd rather walk down the hall or pick up the phone.
3. How do you create a culture of innovation?
It's about getting into the habit of doing things different every time. Process is the same, but the idea generation session is different. For example I prefer to go off-site – places like a YMCA, a tennis club, or a music studio. In the morning we start with, "Here's how the marketplace has changed." We throw a hundred ideas against the wall and then funnel them down to five strategic ideas. Take the afternoon off for a recreational activity like renting a boat on a lake.  Sometimes, we'll do creative teambuilding exercise like writing a song. 'Banding People Together' is an excellent example for something completely different (referencing Monty Python, of course).
When we reconvene, we choose one idea and execute on it. The execution has to speak on timeline, costs, and assigning an owner to every stage of the launch. You have to step outside your normal environment, commit, and hope to catch the ride of your life. But you must really focus on what the idea is and how it helps the brand.  I love showing a surf video or a clip from Tommy Boy to motivate the team.  This
surf clip
is one of my favorites and probably the best big wave I've ever seen, especially in a competition.  
4. How are you going to enhance your team's innovation?
You really have to look six months out, one year out and five years out. What can be done in the short-term? What's on the horizon for the year? And then five years down the road, just think about the blue sky and the possibilities.
5. Are there specific areas of your culture that you would like to enhance to make your team more innovative?
One thing that has worked is to bring in people from parallel industries.  For example, we may bring in an expert who is "outside their element." Whether it's someone who has designed a game interface or designed a cockpit, we bring in experts from different industries that have similar challenges.  When I worked at LendingTree, we worked with our sister company Match.com.  What do mortgages and dating have in common? On the surface not much, but strategically, we both ask people to enter very personal information online – like dating preferences or a social security number. Then we "test, optimize and scale". Test the idea or innovation, optimize to make it most efficient and then scale it to fit the market need or business need.
Follow Greg on
Twitter
and be sure to check out his
blog posts
.