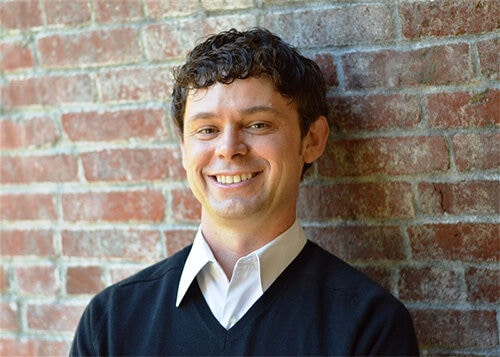 Unified Grocers is the largest independent wholesaler on the West coast, servicing independent grocers from California to Hawaii to Alaska. Unified provides grocers not only with quality wholesale products to sell in-store, but with innovative business solutions as well.

Grant Lunde, Digital Marketing Manager, focuses on driving shopper engagement and bringing the best digital solutions to Unified's retail partners. Grant identifies new and emerging digital technologies that address the evolving needs of consumers and ways to satisfy them in various retail settings.

7 Questions with Grant...

1. What makes an innovative culture? How do you create a culture of innovation at Unified Grocers?

I think you have to have an openness to ideas and from the top down, you have to be willing to listen to ideas that come from anywhere. All types of people from all levels of business can come forward with ideas, then we vet them to see which ones we want to implement. At Unified we're a big organization, but still have that openness that you need to foster a culture of innovation.

2. Do you have any specific rituals for re-setting your team to be creative? How does your team generate new ideas?

The one thing that's always worked for me is to just get outside the office. There are so many things around us all the time when we're in office, but sometimes the best ideas just come to you. It's important to get up from your desk, get outside and give those ideas a chance to find you.

3. What is the biggest challenge you face when innovating?

Things change so quickly nowadays. Once we decide to go forward with an idea it needs to implement quickly because by the same time next year there could already be something that's replaced it. Determining how long each idea will remain relevant to the customer is really tough. We try to put everything through a matrix that will evaluate certain metrics to see which ideas have longevity; we try to keep it as quantitative as possible so we aren't just acting on a feeling.

4. How do you find ideas from adjacent industries? Or do you focus mostly on your category?

We tend to use other industries as a starting point for our own innovations, but the business solutions in other spaces have to be the right fit for the rigors of the grocery industry. Apparel, for example, tends to be ahead of grocery in terms of trends so they actually work out some of the kinks for us by the time we implement it into grocery. Beacon technology is one area we're looking into now and although it's already been implemented in some high-end department stores like Macy's, it's new to the grocery marketplace.

5. How do you use consumer trends/insights in your work? What resources does your team use to spot trends and consumer insights?

Identifying trends and insights in the digital space is key to staying relevant. We identify areas of interest by researching what's new in various business publications, social media, websites, etc. along with reaching out to retailers and customers to talk through their business challenges. From there, we will have a good picture of what trends should be further evaluated. Almost always once we settle on a program, we will use a pilot phase to test and learn how the solution will actually solve the business challenge. This process of identifying, testing and learning is a constant cycle that yields valuable insights and helps guide our strategic digital investments.

6. How do you ensure you are getting trends and insights that your competitors aren't?

So much information is widely available that it's hard to have proprietary knowledge of any trend for very long. We try to be as nimble and quick as possible because that's really the best way to stay ahead of the curve when it comes to trends and insights.

7. Looking to the future, how is Unified Grocers going to be a leader in innovation?

We're going to continue to evaluate what's out there and continue to have the mindset that good ideas can come from anywhere. We'd rather fail fast and continue onto the next idea than to fret and worry too much before we make a decision. At the end of the day though it's our people that make all the difference; we've got really great personnel that share the values we try to encourage as a company.

A couple of key areas we're looking into right now for the future are e-commerce and beacon technology, which will allow customers a simpler and more personalized shopping experience. Essentially we're looking at how to use different data points to drive the best business solutions possible for our retailers.
References: unifiedgrocers