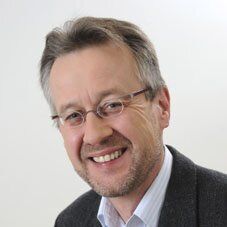 Not only is Valio the largest Dairy supplier in Finland, but it also one of the largest companies. Established in 1905, the company is renowned for producing milk and dairy products, including butter and yogurt. Valio employs over 4,600 people, and raked in over $2 billion in revenue in 2014. Valio isn't just successful in Finland – it is also successful in the international markets, which accounts for over one-third of Valio's net revenue. However, current closure of the borders with Russia creates big challenges for Valio at the moment. Gerrit Smit has been with Valio for over four years now. He is responsible for leading the development teams and research for long term products. He closely interacts with the business groups involved with Valio, the next generation of new products, and how they should be developed. He also challenges new projects and products, and how to position them in the market.

4 questions with Gerrit...

1. What makes an innovative culture? How do you create a culture of innovation?

An innovative culture requires bringing in new innovations to the market and to be able to do it way ahead of the crowd. We can create these new findings while we also reach out to the different areas around the world. At Valio, we have a better innovative culture than many dairy companies. We are actively looking into areas that others are not. We are seeing that we are leading the development of many things coming out of the dairy industry. This culture is cultivated…we love to innovate, and compared to most other dairy companies, we spend more on research and development.

2. What is the biggest challenge you face when innovating?

One of the biggest challenges we seem to face is trying to find the white areas where we see new potential, but because of our innovative nature, we are unsure. What areas will give us this new potential and what new things are popping up around the world? Another question we often face is if we can even act on these developments – can we create them to be sold? This is always a challenge, finding the new hot-spots and what can give us a new line of revenue.

3. How do you find inspiration or ideas from adjacent industries? Or do you focus only on your category?

We most definitely look at other companies…we look for new innovations all together with different industries as well. We are looking to see if elements from other industries can be applied to our own business. I firmly believe that you must look outside your own industry to get inspired. Also, looking at different countries and the products flourishing in those areas. Can we learn from those for our own market?

4. Looking to the future, how is Valio going to be a leader in innovation?

In order to stay on top, I think we need to stay focused on a couple of key areas and technologies that we want to develop further. You must build up starting from your core strengths and connect to outside the organization for complementary strengths. We are always asking ourselves where we want to be in a couple of years – in what area do we feel we can make a difference. Sometimes we have to trust this gut feeling that we have that you just cannot explain. We have the culture to do this as well… we invest in tech even in its earliest stages. If it fits our core, we will definitely look into it.