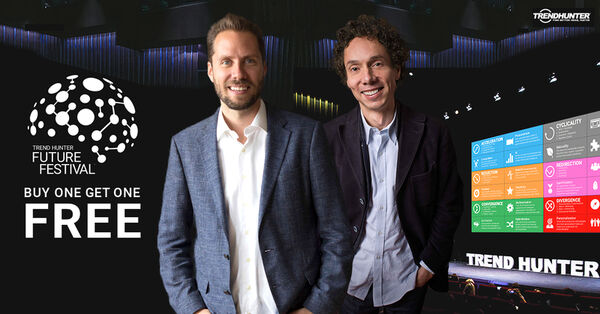 For a limited time only, Trend Hunter is offering an exclusive buy-one-get-one-free deal for tickets to Future Festival 2018, the world's #1 innovation conference. The special discount pricing applies to all Future Festival events taking place this year, including the highly anticipated Future Festival World Summit featuring Malcolm Gladwell as well as the 1-day super Sessions being held in 14 international cities. Register now and you can bring a guest -- a friend, a colleague, anyone -- for free!

Attending Future Festival is a conference experience like none other. Attendees will not only experience future trends and cutting-edge insights, but they'll get the chance to network with the world's top innovators throughout the event. Future Festival is the #1 business event to attend to feel inspired, informed and prepared to get ahead of the competition.

Attendees who register for Future Festival World Summit in September can look forward to a three-day immersive learning experience featuring never-before-seen content, a keynote by Malcolm Gladwell, a hands-on workshop, experiential trend excursions throughout the city of Toronto and a Future Party, showcasing the latest releases in the tech world, with live demos and testing for all attendees.

If you can't make it to Toronto, you can still take advantage of the buy-one-get-one discount for the 14 cities hosting Future Festival 1-day Super Sessions.

Do not delay! Register today to secure a spot at the world's #1 innovation conference and receive the special 2-for-1 pricing.
References: futurefestival