Why Focus is Crucial for Innovation (INTERVIEW)
Bill McInnis, Head of Advanced Innovation
Related Trend Reports
Activism
,
Art & Design
,
Branding
,
Charity
,
Customization
,
Design
,
Fashion
,
Fashion for Men
,
Health
,
Hip Fashion
,
Jewelry
,
Lifestyle
,
Marketing
,
Shoes
,
Social Business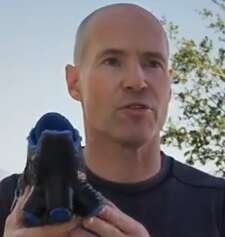 Reebok's innovation in apparel, footwear and sports equipment has spanned more than three decades, and there are no signs of slowing down for the sport and lifestyle brand. One man responsible for Reebok's innovation success (especially in footwear) is Bill McInnis, Head of Advanced Innovation. McInnis spearheaded concepts and design of Reebok's past successes like Run DMX, Pump 2.0, and more recently, ZigTech and ATV 19+. We caught up with McInnis and asked him about the value of trends, how he motivates his team and what the biggest problem is during the innovation process.
4 Questions with Bill McInnis
1. Ideation is a frustrating process of innovation. How do you motivate your team to generate great ideas and concepts?
One thing I try to do for my team is get them to focus. Focus is the key to bringing a concept to market. They're a group of all-stars, and they do a great job of getting out of the industry -- getting away from footwear and apparel -- and searching for the next breakthroughs. They're great at ideation and concept-generating tasks. We have many innovative teams at Reebok, so ideas can from anywhere -- marketing, engineering, insights. And then there's the element of healthy competition, which is a great motivator itself.
2. How important is trend spotting for Reebok? What resources do you use to spot trends and competitor innovations?
Trends are important but we'd rather create them than follow them. Trends aren't as important as the story behind the products we create. Our job is to anticipate trends and create cutting-edge products for them. While there's a healthy awareness of trends, they don't dictate what we do.
There's so much information out there these days it's hard to know where to start. We definitely make an effort to get outside of the footwear industry. We send people to conferences like the Detroit Auto Show. We don't really look at the competitors because we want to be as original as possible. We have a shoe out right now that
draws inspiration directly from an ATV wheel and body
. That's pretty unique!
3. What's the biggest obstacle you face when innovating?
In the early stages on innovation, and I mentioned this earlier, focus is very important. In fact, it's an important asset to have during the whole process, from beginning to end. I used to work on the space shuttle program, so I've gained this ability to look at things objectively. Ideas are easy, finished products are difficult. Focus is needed if your job is turning ideas into tangible results.
4. As an outsider looking in, I get the sense that culture plays an important role at Reebok. What can be said about the culture? How do you create an innovative culture?
I wish I could say we authored it and planned it, but the truth is that there's a thread that just goes throughout the company where everyone is keen to be creative. For the Advanced Concepts teams, I would say there's a level experience that brings a lot of value to the culture; they really have a great understanding of the industry. Reebok has a fantastic culture, but I can't say enough about the Advanced Concepts team. They just have some much industry-based knowledge, they're curious and collaborative, and it's just a level of experience that only adds to the culture, it doesn't take anything away.