Passionately Enhancing Steak
Katie Knight and Chef John Merlino, Fleming's Steakhouse and Wine Bar
Related Trend Reports
Bizarre
,
Branding
,
Cosmetics
,
Fashion
,
Food
,
Gadgets
,
Health
,
Humor
,
Marketing
,
Pop Culture
,
Tech
,
Unique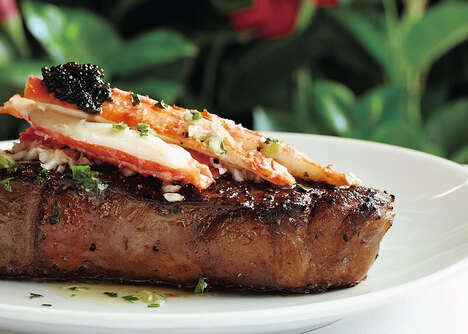 Creating some of the best tasting food in the business, Fleming's Steakhouse & Wine Bar has managed to perfect the combination of elegant dining with exceptional food. However, refusing to stay complacent, Fleming's introduced its unique option of dry aged steaks. These steaks offer customers the perfect cut of meat, finished with a dry age process that lasts 21-24 days. Katie Knight, VP of Marketing and Chef John Merlino, Head of Research & Development, were the driving force behind the new steak options, and their drive and passion for what they do is apparent. If you are looking for an amazing night out that includes a great ambience paired with exceptional food and drink, then Fleming's Steakhouse is the place you need to go.
4 Questions with Katie Knight and Chef John Merlino
1. How does your team generate new ideas?
Chef John: Mainly, the ideas come from a lot of different areas. I'm always on the prowl for new trends being set by other restaurant groups or people who are just getting started in the industry. We also look at different magazines, articles and we like to take recipes from our catalog and modify them. We aren't trying to set trends, but we do want to ride the waves of what is trending. We enjoy eating at other restaurants; some of our best ideas have come from restaurants outside the steakhouse segment.
Katie: We have an annual innovation cycle that we go through. It's a collaborative process where we bring together different departments and teams and we review what we are doing, as well as what is happening in the industry. We then take those ideas and develop our traffic driving initiatives. We work about 12 months out, which helps with sourcing ingredients and training for the new items, but we are also poised to drop in new ideas quickly when the business requires it.
2. Do you have any specific rituals for resetting your team to be creative?
Katie: We have a 'big idea' meeting where people are tasked to come to this meeting with new ideas. This really helps to spark creativity. We also do a lot of dining in various restaurants. It's important that we are always eating and drinking, not only at our competitors, but also at independent restaurants (that's the fun bit!). A lot of work that we did in late 2012 and early 2013 is what drove us to our dry aged steaks. The launch of the Fleming's WiNEPAD® allowed our Guests to get an education on wine, without being preached to. We found a lot of fine dining Guests were intimidated by a sommelier or Wine Manager coming to their table, so we wanted to give them another option.
3. What is the biggest challenge you face when innovating?
Chef John: I think our biggest challenge is our sheer size. We can come up with great ideas or exciting ingredients, but we need to be able to roll them out in many restaurants with different chefs. I like to try to eliminate all possible pitfalls before they happen. We have a field research and development team of Regional Chef Partners who work with the ideas put forward, and they let me know how feasible they all are. We need to make sure we can implement an idea 66 times over. We also need to make sure that we can move our ingredients efficiently through our distribution channels to different states, and this is sometimes challenging.
4. Looking to the future, how will Fleming's Steakhouse continue to be a leader in innovation?
Chef John: We're really good at steak, but our innovations aren't going to come from just the steak moving forward The things that I am going to focus on are looking at how we can add variety to our menu offerings, while staying in the steak category. Our food needs to have robust flavors, but still have fine dining elements. Times are changing, millennials are dining in our restaurants and they have a different view of what they want out of a contemporary steakhouse.
Katie: There is also opportunity in our bar with our cocktails and bar menus. We've piloted a brunch daypart where a cocktail cart comes tableside and cocktails (both alcoholic and non-alcoholic) are made for you. We feel that brunch is a great entry point for millennials and our brand. We look at it in terms of 'innovate or die.' However, we always want to start with our base of a modern American steakhouse menu, and we never want our business to veer off from that view. We are very careful about how we innovate. We would rather have a whole bucket full of ideas that we put through a filter because we always want to stay true to who we are. Internally, we all want to be innovative, and we are truly passionate about what we do.