Exploring Taste-Based Innovations (INTERVIEW)
Kirsten Schimoler, Flavour Guru at Ben & Jerry's
Related Trend Reports
Bizarre
,
Business
,
Charity
,
Drinking
,
Fashion
,
Fashion for Men
,
Food
,
Health
,
Humor
,
Inventions
,
Lifestyle
,
Luxury
,
New Ventures
,
Pop Culture
,
Ultra Luxury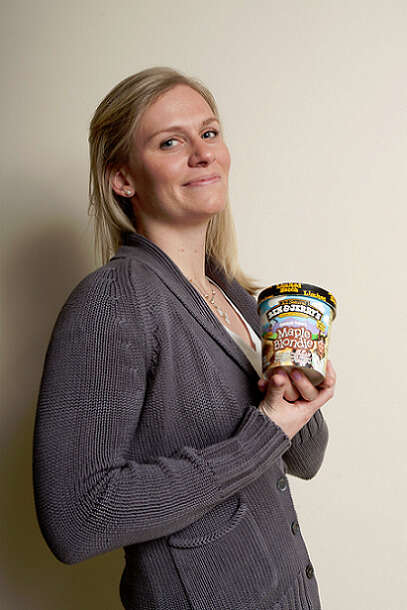 Fresh from a trend trek in Chicago and Portland, Ben & Jerry's Flavour Guru Kirsten Schimoler discusses the innovation practices at the ice cream company known for exclusive flavours like Cherry Garcia and Chunky Monkey. As an ice cream company that creates its own flavours from scratch, Ben & Jerry's puts a lot of time and resources into innovation processes. Using a wide range of resources, Kirsten and her team scour the culinary landscape with their seasoned pallets to find the next big taste, texture or swirl.
4 Questions with Kirsten Schimoler

1.How do you motivate your team to come up with good ideas?

Most people subscribe to online newsletters to see what's going on in different cities. We look at publications like food magazines, food product design and package design. We look at different websites and we do store visits. Then, on a larger scale, we do trend treks. We just got back from one in Portland and Chicago. We take a couple weeks to plan out itinerary and visit between 10 and 20 places a day. It's basically from 9am to 9pm walking around the city of our choice and eating.
You do get to points where you don't want to eat anymore and you have to force yourself, but we're more trained to taste than eat. It's about picking up new flavors and ingredients that normally people might not pick up. It's a thoughtful process when we're tasting these foods. And you may find something that is the most delicious thing you've ever had, but you have to limit yourself to one or two bites, write it down and think about it later.
2. Do you have specific rituals for re-setting your team to be creative?

There's an exercise where everyone picks an ingredient from the grocery store, and everyone picks out one from the bag and they are tasked with making a flavor around that ingredient. That gets us back to pure, fun innovation.
We also work a lot with our suppliers who come to visit. They help us by telling us new technologies they are using. It's exciting to brainstorm with them. Maybe the flavor is good, but we wonder if they could change the texture or something. There's a lot of different places where we can hit the reset button.
3. What's the biggest obstacle in innovating?
Time is one of the biggest obstacles, as well as money. Maybe you're racing against a timeline to launch a product. Maybe it's seasonal and you need enough time to test and make sure these innovations work and work well. Maybe something really technical needs a lot of work but we only have 6-8 months and we really need a year. We can do anything as long as we have enough time and money. Some innovations require new capital or new machinery, and that takes time to get running.
4. What makes an innovative culture?
You have to really have an open mind and listen to everybody's ideas regardless of what you think of them. Also, for it to work when you're developing products you need to be open minded because maybe you don't like coffee, but you're working on a new platform of coffee inspired flavors and you're going to need to taste all these flavors. You have to step out of your personal preferences and think about if it is on trend. You have to think about it objectively. You need to know what's best for your brand and consumer.