The Value of an Experimental Work Environment
Don Frey, VP of Product Development at method
Related Trend Reports
Architecture
,
Art & Design
,
Babies
,
Bizarre
,
Design
,
Drinking
,
Eco
,
Fashion
,
Hip Hotels
,
Jewelry
,
Life
,
Life Stages
,
Lifestyle
,
Marketing
,
Romance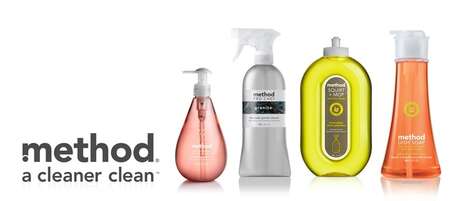 Known as the resident product czar, Don Frey, VP of Product Development at method, has a long history of success in both product development and research and development. Frey understands the value of culture and why it's important to be a good communicator when leading a team through the creative process. We chatted with Frey to get a better understanding of innovation at method and why an experimental work environment is critical for success.
4 Questions with Don Frey
1. How do you motivate your team to come up with good ideas?
We create an atmosphere of experimentation in the office. We also go through a rigorous hiring process in an attempt to get the right people in the door. To motivate innovation and creativity, we do a lot of experimentation with products. When experimenting, we always try to take a step back and look at things from a wider angle. We're always looking how to address the consumer need. We try to take different approaches when problem solving. We try different prototypes, we give and get feedback from each other, and that guides our development. And we're not afraid to fail. When we experiment, we get first-hand knowledge and if it doesn't work, we learn from the process and move forward.
2. What resources does your team use to spot trends?
We use a number of resources to spot trends including web resources and our suppliers, which include fragrance houses and chemical and package vendors. Due to the nature of our company, we're known as a great place to bring innovations. We have a lot of different technologies brought to us because of the nature of our work. Finally, we follow lifestyle trends – keeping an eye on what's happening in houseware, décor, food, travel and personal care.
3. How do you create a culture of innovation?
We believe company culture is a competitive advantage. We look at the culture and the people who make up our culture as the greatest investment we can make. As part of method's leadership team, one of our key responsibilities is to foster our culture and lead by our values. We have a group of employees that meet on a regular basis to keep our culture vibrant, to keep it productive and to bring service to the community, environment, as well as focus on how we can teach and support each other. We spend a lot of time focusing on that.
We are also very clear on our company values – each "person against dirty" receives a set of values cards every year to reinforce how we behave as a company. One of our values is care, which is about reaching out to others; another is collaboration, which is about working together; we have a MacGyver value too, which basically asks, "If you have duct tape and a paper clip, how would you solve the problem?" We even have a values wheel, sort of like method's Wheel of Fortune. Every Monday morning we talk about what's going on in the company, and if someone has done something that exemplifies one of our values, they get to spin the wheel and receive a small prize. We celebrate that here. We focus and spend a lot of time on it because it reinforces the culture.
4. In what ways are you actively investing in innovation?
I think the way we invest is constantly encouraging innovation. When something doesn't work, we try it for ourselves. We actually take the product home and use it. It's called being an active tester. I'm always giving feedback on products. Experimenting with our products is important because when you're actively involved in the development of something, you tend pay more attention, especially with the little things. And it's those little things -- the little details -- which can have the biggest impact.