Creating Intelligent Toys
Donald Coolidge, CEO of Elemental Path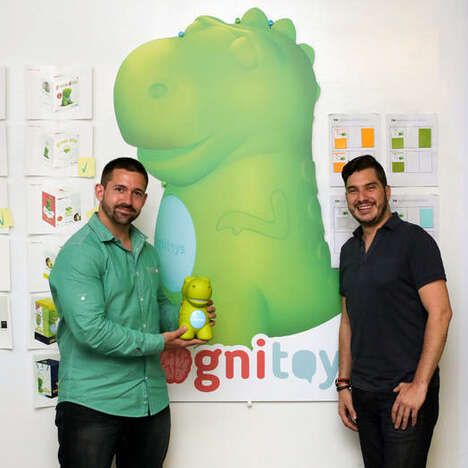 In 2014, Donald Coolidge (left) and his colleague JP Benini (right) won the IBM Watson Mobile Developer Challenge with a proposal to apply this powerful cognitive system to children's toys. Their idea has evolved into the CogniToys Dino: an intelligent companion backed with the intelligence of the smartest computer, with the incredible capacity to learn, as well as to educate.
6 Questions with Donald:
1. Please tell me about yourself and your work with Elemental Path.
I was raised in a small town in upstate New York. I am an avid sports fan and played sports throughout high school and college. During college, I served in the Marine Corps and did a tour in Iraq.
This is my second official startup. I was excited to launch a Kickstarter campaign using our winning concept from the IBM Watson Mobile Developer Challenge, and happy with the campaign's overwhelming success.
2. What makes an innovative culture? How do you create a culture of Innovation?
I think there are so many ways to foster an innovative culture. For Elemental Path, it's been important to create an environment where big ideas are welcomed no matter how challenging they are. We make sure our people know that it's ok to question the routine and how things are done, as well as to ask each other what can be improved.
3. What is the biggest challenge you face when innovating?
Getting out of your own comfort zone. I think real innovation comes from solving the hard problems, the ones where there is not a clear answer or direction.
4. Do you find inspiration or ideas from adjacent industries?
Absolutely; but more so from people in different industries. Someone who I look to for inspiration is Elon Musk. While he's in a different industry, he solves hard problems and gets people excited about boundary-pushing ideas—two things that are really universal goals for any person who values innovation.
5. Looking to the future, how is your work with CogniToys going to make you a leader in innovation?
CogniToys is trying to shake up an industry that is
very
traditional: kids' toys. We are taking a very tech-centered, exploratory and, above all, fast-paced approach to product building.
The first version of CogniToys went from concept to working product in only 12 months. We 3D printed the first dozen or so prototypes. We will continue to build the tech platform that operates behind the scenes to power a unique, evolving ability to bring kids' toys to life.
6. What inspired you to bring the power of IBM Watson to a children's toy? And how have you approached its integration?
We wanted to use the world's smartest computer to entertain 5-year-olds. We'd seen other smart toy products before and disliked their tech integration approach. We saw the Watson Mobile Developer Challenge as an opportunity to take matters into our own hands and develop a truly smart toy.
While tech-based toys are not new, companies that have utilized tech for toys avoided so much of its actual capabilities. The toys' functionalities have been based on lights and movement, rather than actual cognitive interactions. CogniToys will change over time based on the way kids interact with them, allowing the toys to give each child a personalized experience, and to maintain engagement that's not only fun, but educational too.