Innovating Iconic for Evolving Markets
Nate Heider, Product Development Manager, Dippin' Dots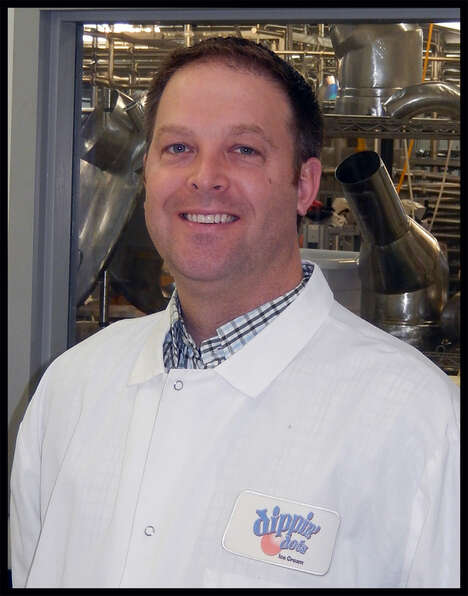 While some continue to ask how Dippin' Dots, founded back in 1988, maintains its status as the "Ice Cream of the Future" for the better part of the last 25 years, product development manager Nate Heider sees any innovations to the futuristically cryogenic "dot" as building blocks for the future.
Though the iconic, multicoloured ice cream pellets have retained its appearance since CEO Curt Jones first created his batch of self-compartmentalized ice cream, the changes occurring inside the encapsulated dots, according to Heider, is what continues to differentiate Dippin' Dots in the ice cream space.
In an industry worth $11 billion in 2010, with take-home ice cream sales accounting for the largest proportion – approximately $7 billion – of that total value according to the International Dairy Foods Association, ice cream manufacturers like Dippin' Dots must continue finding new solutions to vie for space in a competitive landscape that includes the likes of Häagen-Dazs and Ben and Jerry's – owned by Nestlé and Unilever respectively – and other niche ice cream brands.
While the recession brought about a disinclination among some consumers to purchase discretionary food products like ice creams, recent forecast data has suggested the industry will see consistent revenue growth over the next five years to 2018, spearheaded by the emergence of a health conscious market base seeking salubrious new formula alternatives to traditionally high in calorie and sugar content ice creams.
The recent release of products like YoDots, a "better-for-you" on-the-go pack of naturally flavoured frozen yoghurt that is low in fat and sugars, or the introduction of new flavours like 'Strawberry Sorbet,' 'Rockin' Cherry' and 'Kettle Corn,' are examples of how Dippin' Dots is steering away from its Chapter 11 reorganization in late 2011 to align itself with such emerging trends.
For a product that is available in locations ranging from ball games to theme parks across the United States and abroad, Heider says innovation for Dippin' Dots also means listening closely to their core consumers – the tween to teenage demographic – and understanding how best to merge their interests with macro market movements. In addition, assessing how to distribute their products in places like school cafeterias to best achieve growth is an area Heider considers crucial for the company's future prospects.
Seven Questions with Nate
1. How does your team generate new ideas?
At Dippin' Dots, we have a very active flavour committee that meets monthly to discuss trends and flavours, and do tasting sessions where we pull different employees from different segments of the company – whether its production, sales, marketing or R&D – and cull insights. Once we narrow in on a set of flavours, R&D will take it back to the lab, contact the flavour houses and begin developing this list of flavours to take back to the committee to test. Once the committee approves the flavour, we then go out, depending on whom the audience is and what the age group is we're targeting for, and do some field taste testing.
2. How has Dippin' Dots moved to react to consumer-provided flavour suggestions?
It seems that reacting to consumers' needs is becoming a growing trend for us this season. We've had a number of our larger, specialized accounts that have requested customized flavours, and we like to think that's one thing at Dippin' Dots that we can do better than anybody else. We've been able to achieve some really unique, custom flavours for our customers to offer at our locations.
3. People often ask how you can maintain the slogan "Ice Cream of the Future" after 25 years. How do you stay true to that sentiment?
We do that by creating new formulas and new flavours. One line that we've launched is YoDots, which is part of our "better-for-you" segment. That's really a growing segment for us, and that's the kind of product that would be geared towards school-aged kids and an item that could be approved and sold in schools.
4. What considerations come into play when developing a new product for a consumer of that age?
If a child or that consumer of a young age group sees Dippin' Dots, even if it's in a healthier form, they'll want to have it. But at the end of the day, we realized that whatever product it is – whether it's a traditional Dippin' Dots flavor or a new better-for-you product – it has to taste good, or else. It's not going to have any success if something doesn't taste good because kids will pick it out pretty quickly and they won't eat it.
5. What do you find is the biggest challenge you find when innovating?
Perfecting the taste of a product can take some time. Sometimes good is not enough; it has to taste great. If kids or adults don't like it, there won't be a second purchase. The other challenge is that in order to look good and to be considered better-for-you, we had to remove the artificial colouring. We really empowered our flavour houses to create flavours that had natural colours, and that's probably been one of our biggest challenges over the last couple of years – finding natural flavours that would work with our process. We've had great success here recently in removing the artificial colours and we do see that trend especially with our international business because they don't allow for any artificial colours to be put in the product.
6. What makes an innovative culture at Dippin' Dots?
You have to keep it fun, and everyone has to be engaged and be ready to accept everyone's input. There are no wrong answers when it comes to flavours, they're just suggestions, and we have that mentality. As a company we want everyone to know that "we own fun" – we're a unique product and that we're all here as a team to help create that fun. No two days are the same and I'm always bringing over new flavours to the plant for employees to try just to get their take on it, and I think even if they're not on the flavour committee, they really enjoy trying something for the first time. They really appreciate that we're trying to gather their input.
7. Looking to the future, how do you see innovation driving Dippin' Dots?
We really want to make sure that we're a product for everybody, and as the kids will be deciding the flavours and the parents will be looking at the flavour that they're choosing, we're really focusing on how to create better-for-you products. We've made some great strides so we're really trying to help look after our consumer with healthier, better tasting products. Again, it comes back to how can we reduce our sugar content, removing artificial colours and look at the calcium and protein levels to make for a better and healthier dot.
We understand that at a baseball game or an amusement park, you're probably not thinking low-fat or being calorie conscious, so you're still going to go after that funnel cake flavour. But if we can start offering products like our fruit sorbets, which is a growing line for us, they would be classified under the better-for-you category and we're starting to see a lot of accounts picking those up. They're also non-dairy, so if consumers have any issues around lactose intolerance, that's a great alternative for them.