Remaining Innovative from the Top Down
Roland Dickey Jr., President, Dickey's Barbecue
Related Trend Reports
Bizarre
,
Branding
,
Business
,
Credit Crunch
,
Food
,
Health
,
Humor
,
Marketing
,
Pop Culture
,
Retail
,
Unique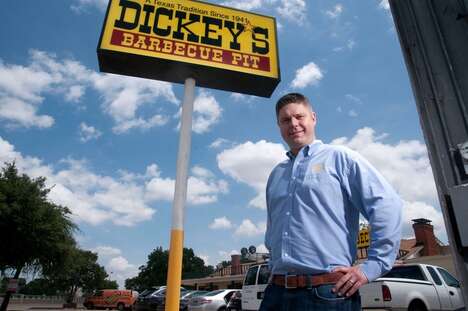 Dickey's Barbecue is an iconic brand that is known for its high-quality food as well as its ability to reinvent the world of barbecue. Roland Dickey Jr., the President, has helped to elevate his family's company to new heights. He has a strong desire to be innovative, and that's demonstrated in all aspects of the organization from employees, all the way to the menu. With 4 new stores opening each week, this franchise has become a hot commodity. Dickey's Barbecue has been around for 72 years, which is an incredible accomplishment, and with the way the brand is organized, the first 72 years has just been the beginning.
3 Questions with Roland Dickey Jr.
1. How does your team generate new ideas?
We scour the retail and restaurant industries for the best practices. Our core team is comprised of avid readers; anything from business books to convention papers. We are always looking for the best ideas outside of our four walls. We have several groups within the company that meet regularly and talk about our ideas. We refer to Maslow's Pyramid of Needs frequently. We see if we're lacking in any of the aforementioned areas, and if so, we quickly address the issue. Some companies are set in their ways, but there is always a better way to be. We try to distinguish our core values, and we know that those are the things that will never change. Everything else are just practices and we can change and adjust them as we go.
2. What is the biggest challenge you face when innovating?
The biggest challenge we face is the fact that we're a franchise system. Over 90% of our stores are individually owned, so if we're going to roll out a big initiative, we need to make sure we have the proper buy in from everyone. We always want to make sure we're considering our franchisees, and that we're making sure they're happy.
3. What makes an innovative culture? How do you create a culture of innovation?
One thing that you have to do is hire a bunch of like-minded people. We have set up a Mars Committee, which we based off of Jim Collins' book 'Good to Great.' It demystifies corporate culture and says that you need to get the right people to work with you. During a meeting, you need to get all your problems out on the table, you never want to have a meeting after the meeting to decode everything that was said. Any problem you may have, you have to let it be known, and you need everyone to agree that no matter what, we're going to be successful. The name Mars Committee came from the idea that if someone were to visit you from the planet Mars, who would you want to represent your company. Once you know who they are, you elicit their help to set the standard for who you hire in the future. Each new person we hire has to be approved by our Mars Committee, and this is a long-term strategy that helps to create a culture of innovation.