Innovative Brainstorming Techniques
David Weinrot, CMO, Shopzilla.com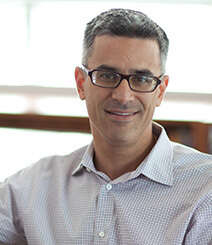 David Weinrot is the CMO of Shopzilla.com. His duties include overseeing the company's portfolio of consumer websites, as well well as Bizrate Insights, and Shopzilla's Publisher Program. David has been with the company since 2000, and during his time, has led and collaborated with various teams to launch and establish Shopzilla, Beso, and other affiliated sites. David has served in roles including VP, Direct Marketing and SVP and Operations & Business Development. Shopzilla operates a portfolio of shopping web sites, with greatest experience as a price comparison service. The company's mission is to enable shoppers to find, compare and buy anything, sold by virtually anyone, anywhere.
Three questions for David Weinrot:

How does your team generate new ideas?
A lot of it comes down to brainstorming and casual conversations. The best ideas, epiphanies or 'eureka moments' happen for us outside the context of our office. For me personally, a lot happens when I'm not confined to my desk chair and office. Changes to day-to-day routines really help you to understand and identify opportunities and market needs. Also, it's about identifying the pervasive behavior that you see exist amongst individuals and consumers. For example, with the massive adoption of smart phones it's more often the case that when we're standing in line at the bank or supermarket you probably have your phone in your hand. You're filling the time with the content that you're consuming on the phone. There is behavior that exists out there where people like to snack on content in moments you need to fill. We created a product that addresses that pervasive behavior which is encapsulated in the mobile app; that's just one example.
How do you identify trends? What resources does your team use to spot trends and consumer insights?
What is incredibly important to us is to be very observant about what is going on around you. While people may think it's childish, I'm eager to talk to young people about the things they're into, the programming on TV, the way they're consuming content on the web, on their phones, etc. We are very in touch with younger crowds for the purpose of spotting new trends.
Looking to the future, how is Shopzilla going to be a leader in innovation?

We just have to encourage the workforce to take risks and explore new ideas that potentially exist adjacent to the markets we exist in.