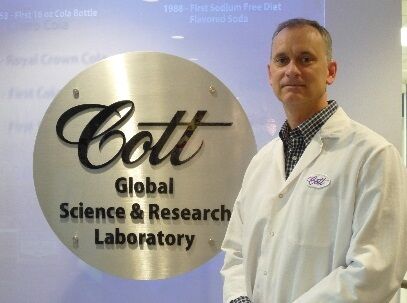 Royal Crown Cola International (RCCI), a division of Cott Beverages Inc., is a leading beverage company offering innovative products and services through a global network of bottlers and distributors. The flagship brand, Royal Crown Cola, affectionately nicknamed "RC" Cola, was born from the efforts of a young pharmacist in Columbus, Georgia, USA in 1905. Claud A. Hatcher created his own line of soft drinks and began selling them in his family's business. Never in his wildest dreams could he have imagined that his experiments would become a part of American popular culture, let alone lead to a growing portfolio of products thriving globally more than a century later. As RCCI's Senior Director of Product Development, David Ragland has the distinct honor of continuing the unwavering commitment to innovation that Mr. Hatcher began over 110 years ago. David has been in the industry for 28 years and shares his passion for product development through his current position in the Columbus Innovation Center located in Columbus, Georgia.

4 questions with David Ragland

1. What makes an innovative culture? How do you create a culture of innovation?

Our founder, Mr. Claud Hatcher, really laid out the groundwork for the entrepreneurial mindset and spirit of innovation that is still at the very heart of everything we do today. Historically speaking, the RC Cola Company has always been at the forefront of industry-changing innovations. We were the first to distribute soft drinks in aluminum cans and in 16 oz bottles, first to introduce low-calorie and caffeine-free diet soft drinks, just to name a few. With that type of history, how can you not have a responsibility to ensure the innovative culture remains intact? It truly comes down to our people -- some of the world's top, most experienced talents who are passionate about the work that they do, backed by an organization that empowers our team through a culture of ownership. When you "think and act like the owner," your creativity is unleashed and the sky's the limit!

2. What is the biggest challenge you face when innovating?

There are many factors that can limit you from innovating, especially from an international perspective. First, the beverages that we develop are produced by a licensed bottler in locally owned factories around the world, rather than in our manufacturing facilities here in North America. The capabilities of our customers in terms of technology, natural resources, talent pool, ingredient availability, etc. all have to be weighed when a new beverage concept is explored. Second, depending upon the consumer intelligence, a beverage that we may feel is on the cutting edge of innovation here in North America, may not translate well with local consumer taste preferences. For example, our mid-calorie cola with cane sugar and stevia, RC Cola Neo, has been introduced in several emerging markets. The whole concept of stevia was foreign to local consumers who have a lack of stevia products in their marketplace, so education was key. On the other hand, working with international customers allows our scientists to explore innovative beverage concepts that not only meet the local taste preferences, but also resonate beyond individual markets.

3. How do you find inspiration or ideas from adjacent industries? Or do you focus only on your category?

Absolutely! We always keep our eyes on the development within other industries, such as alcohol and food, to see how it can apply to what we are doing or to use as inspiration for future projects. And even their consumer buying habits are of interest to us. Our core business has expanded far from the world of carbonated drinks from which we started. We are now in most of the beverage categories available -- from 100% juices and juice cocktails, to coffee and sparkling water along with energy drinks and mixers. When it comes to the non-alcoholic beverage category, nothing is off limits to us!

4. Looking to the future, how is Cott Beverages going to be a leader in innovation?

Whether we are looking to penetrate a new regional market or launch a new product in an existing one, understanding global consumer trends is vital to our success. Equally as important in our business, we must look closely at regional trends specific to key markets along with significant societal changes taking place across emerging markets. Currently, both of these factors are having a profound effect on consumer beverage preferences and understanding the fundamental shifts is key to having market success with a new product. It is an exciting time for beverage innovators with new varieties, new flavors and new product lines rising to dominate larger markets. However, the global beverage market is large and diverse, varying from country to country. We do not try to conquer the beverage category all at once. Our approach to product development is to be very strategic in our offerings to ensure our beverages will meet the very different tastes and preferences of each individual market.
References: linkedin and rccolainternational